The popularity of non-traditional drinking venues is on the rise with younger consumers, according to new data shared today by Nielsen and CGA at the Brewbound Live business conference in Santa Monica, California.
Nielsen beverage alcohol practice manager Caitlyn Battaglia and Nielsen CGA client director Matthew Crompton shared that younger craft beer drinkers are seeking out third-space drinking occasions. They noted that within the last year, 23 percent of millennials said they visited a taproom or a brewpub, while 13 percent said they ate and drank at a "groceraunt" and 14 percent said they imbibed at an arcade bar.
However, millennials aren't the only age group seeking out new spaces to drink. According to the survey, 15 percent of all U.S. legal-drinking age consumers polled said they have made a trip to a brewery taproom in the last three months, while 42 percent of respondents said they increased their visits to taprooms, tasting rooms and brewpubs over the previous year, according to the fall 2018 On-Premise User Survey (OPUS), which featured questions developed in collaboration with Brewbound.
Younger consumers are driving much of that traffic, though. According to OPUS, 42 percent of consumers polled between the ages of 21 and 34 said they frequented taprooms, tasting rooms and brewpubs more than the previous year. Compare that to 29 percent of 39- to 54-year-olds and 22 percent of 55-plus-year-olds polled said their visits increased over the previous year.
Those increased visits come as the craft beer segment is struggling to maintain positive growth in both on- and off-premise channels. According to Nielsen data, retail craft beer dollar sales are down 0.2 percent for the 52-week period ending November 3, breaking a four-year trend of annual growth and a significant slowdown from the 12.9 percent growth in sales in November 2015.
So why are consumers frequenting brewery taprooms? In their presentation during Wednesday's Brewbound Live meeting, Battaglia and Crompton shared that a majority of consumers — 55 percent — cited the ability to sample multiple offerings as the key reason why they visit brewery taprooms, tasting rooms and brewpubs. An even higher percentage of taproom-going women — 58 percent — cited sampling a variety of offerings as the reason for their visit.
Breaking it down by age, 49 percent of 21- to 34-year-olds said variety was important to them, while that number increased to 56 percent of consumers ages 35 to 54 and 60 percent of consumers over the age of 55.
Another factor drawing consumers to taprooms is a desire for camaraderie. According to the survey, 32 percent of 21- to 34-year-olds said they visit brewery taprooms for events such as trivia nights and live music, while 31 percent attributed their frequency of taprooms to the family-friendly and pet-friendly nature of the establishments.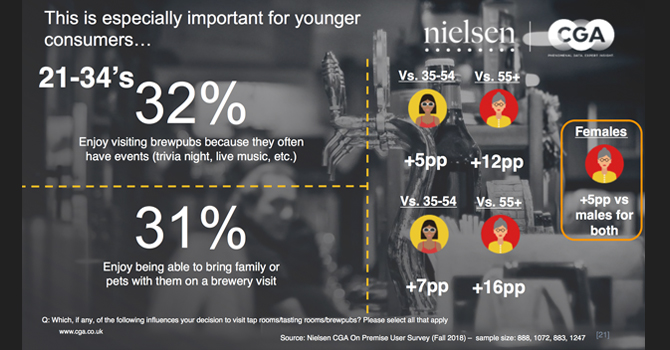 Battaglia and Crompton also shared results from an October 24-26 Harris On Demand poll that asked consumers why they drink craft beer beyond flavor and taste. According to that survey, 39 percent of women said they like the atmosphere and experience of craft beer, while 28 percent of women said they like to share craft beer with their families.
"Women really grativate to that idea of an atmosphere," Battaglia told Brewbound in an interview prior to the presentation. "A tasting room feels very different than a bar or restaurant. It has its own unique feel to it. The product that you're serving is important, but all of the elements of craft culture that you're capturing in that experience, that's what makes taprooms and tasting rooms the unique experience.
"The craft drinker tends to skew really male, so If a tasting room is a unique way that you can bridge that gender gap — particularly with the idea that it's family friendly and has a good atmosphere, it's offering a drinking occasion in a different atmosphere — that's really cool," Battaglia added.
Nevertheless, men's reasons for drinking craft and visiting taprooms are more simple.
"Men just like good beer," Battaglia said, pointing to the Harris Poll finding that 33 percent of men are seeking quality beer.
The OPUS survey also explored why consumers aren't drinking at brewery taprooms. According to the survey, 31 percent of people polled said the food offerings are limited or inconsistent, while 21 percent said they wanted more wine and spirits options.
Among 21- to 34-year-old consumers, 24 percent said they skipped taprooms because they're too popular and overcrowded, while 23 percent said they're too expensive. And 17 percent of those consumers believe brewery taprooms are intimidating.
Battaglia and Crompton also shared that brewery taprooms, tasting rooms and brewpubs can attract more consumers by embracing food trucks and offering arcade games. The survey found that 45 percent of consumers said they visited food trucks more than the previous year, while 43 percent of respondents said they visited game-based bars more than the previous year.