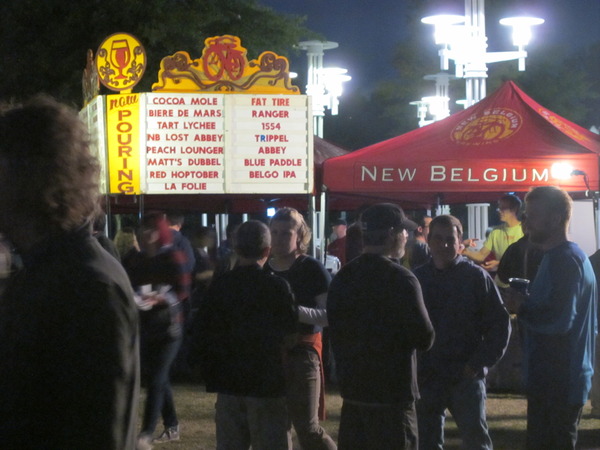 Ft. Collins, CO — New Belgium Brewing, maker of Fat Tire Amber Ale and a wide variety of award-winning beers, is gearing up for the 2013 Clips Beer and Film Tour and finalizing the most important part: selecting the films! New Belgium is taking film submissions through April 15 at www.newbelgiumclips.com and will choose approximately 20 films for the touring show. All selected entries for the 2013 season will receive a custom gift from New Belgium and screenings along the entire 21-city tour (see schedule below).
Clips is a national beer and film festival where guests can try beers from New Belgium's adventurous Lips of Faith series, along with some popular classics, while catching short films made by New Belgium fans. Attendees sit under the stars and sip beers while beer proceeds benefit a local nonprofit at each stop. This year marks the fourth season for Clips, which has raised more than $200,000 for nonprofits nationwide.
Film submission guidelines include:
It must be no more than five minutes.
Filmmakers must be at least 21 years old.
The film can cover any subject/genre, but extra points go to films that include: Craft Beer, Advocacy/Activism, Humor, Culture, Adventure, Art, and Fun!
Keep it clean.
Filmmakers must secure rights for all elements included in the film.
Since 2010, selected plotlines from filmmakers of all skill levels include a documentary about controversial water rights, a tale of lizard wrangling in Wisconsin, and a piece of art entirely created with old school theater trickery, puppeteering and black light. Film genres ranged from comedic shorts, animation and environmental documentaries to accounts about the world's best invention: the bike.
The beer and film festival's 2013 schedule is as follows:
Bloomington, IN, Friday, May 31
Kansas City, MO, Thursday, June 6
Des Moines, IA, Friday, June 14
Madison, WI, Thursday, June 20
Grand Rapids, MI, Friday, June 21
Flagstaff, AZ, Thursday, June 27
Boulder, CO, Friday, June 28
Santa Cruz, CA, Friday, July 19
Missoula, MT, Friday, July 19
Seattle, WA, Friday, July 26
Davis, CA, Friday, July 26
Portland, OR, Thursday, August 1
Colorado Springs, CO, Thursday, August 1
Milwaukee, WI, Thursday, August 15
Asheville, NC, Friday, September 6
Athens, GA, Friday, September 6
Charlottesville, VA, Friday, September 13
Knoxville, TN, Friday, September 13
Austin, TX, Thursday, September 26
Charleston, SC, Thursday, September 26
Charlotte, NC, Friday, October 4
To see highlights from films featured in last year's tour and to get more details on each of the city stops this year, visit www.newbelgiumclips.com. For more information on New Belgium Brewing, visit www.newbelgium.com.
About New Belgium Brewing Company:
New Belgium Brewing, makers of Fat Tire Amber Ale and a host of Belgian-inspired beers, is recognized as one of Outside Magazine's Best Places to Work and one of the Wall Street Journal's Best Small Businesses. The 100% employee owned brewery is a Platinum-level Bicycle Friendly Business as designated by the League of American Bicyclists, and one of World Blu's most democratic U.S. businesses. In addition to Fat Tire, New Belgium brews eight year round beers; Ranger IPA, Rampant Imperial IPA, Shift Pale Lager, Sunshine Wheat, 1554 Black Ale, Blue Paddle Pilsener, Abbey Belgian Ale and Trippel. Learn more at www.newbelgium.com.