A nearly decade-long debate over how to reform Massachusetts' controversial beer franchise laws continued Tuesday afternoon, as craft brewers and beer wholesalers packed a basement meeting room of the statehouse to testify before the Joint Committee on Consumer Protection and Professional Licensure.
State lawmakers heard testimonies from a variety of industry stakeholders who are aiming to reform strict franchise laws that brewers claim lock their companies into nearly unbreakable relationships with wholesalers.
"It's easier to get out of a bad marriage than a bad wholesaler relationship," Boston Beer Company founder Jim Koch told a scrum of reporters following the hearing.
On the table are three competing bills — H.2823, H.183 and S.136 — all of which would significantly alter language in chapter 138, section 25E of the Massachusetts General Laws, which governs relationships between wholesalers and alcohol manufacturers.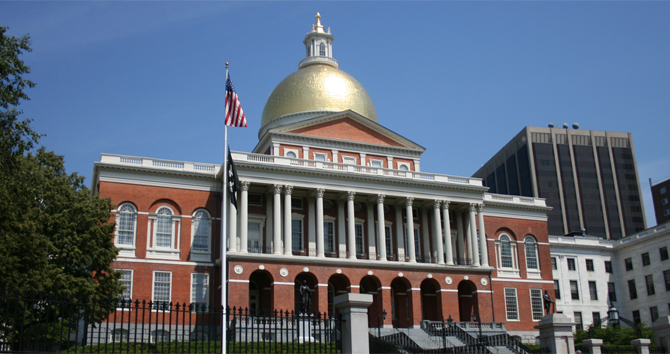 The Bills
House Bill 2823, the so-called "Emerging Breweries Bill" backed by wholesalers, would allow brewery owners making less than 30,000 barrels annually to terminate relationships with wholesalers, for no reason and at any time, provided they give 90 days notice and pay fair market value for their brands. The wholesalers have framed the bill, which currently has 77 co-sponsors, as a "compromise," despite opposition from the state's brewers.
House Bill 183, the so-called "act relative to craft brewers" backed by beer makers, would allow breweries whose brands account for less than 20 percent of a wholesaler's total annual sales to terminate contracts, without cause, as long as distributors were also compensated "fair market value" for the loss of business. (Brewers have supported versions of H.183, which currently has has 63 co-sponsors, for years).
A third piece of proposed legislation, Senate Bill 136 — "an act restoring contract rights to craft brewers" — would allow any alcohol manufacturer, importer or wholesaler to terminate a contract as long as they can show "good cause." It currently has 35 co-sponsors.
The Hearing
In an attempt to sway committee members, dozens of members from the Beer Distributors of Massachusetts, wore matching green T-shirts that read: "Pass H. 2823. The 97% solution."
Meanwhile, a smaller contingent of craft brewers and leaders from the Massachusetts Brewers Guild, a nonprofit advocacy group that works on behalf of more than 100 small brewers, also attended and poured beer samples for lawmakers after the Tuesday hearing.
During the two-hour long hearing itself, lawmakers heard from both sides of the aisle. Advocates of the wholesalers' proposal testified first.
Sen. Patrick O'Connor called the bill a "fair compromise," while Teamsters Local 25's James Donovan raised the spectre of job losses.
Also testifying were Atlas Distributing vice president Jamie Salois, Merrimack Valley Distributing Company executive vice president Mark Tatelman and Horizon Beverage executive Mike Epstein, all of whom explained how they believed family-run beer distributors would suffer if the brewery-backed proposals were accepted.
One concern Epstein raised was the potential for multi-state wholesalers to open distribution companies in Massachusetts, knowing they could cherry pick brands that were free to break contracts at any time.
William Kelley, the president of the Beer Distributors of Massachusetts, a lobbying group that advocates on behalf of employees at 13 Massachusetts-based beer distribution companies, was also on the panel.
After the hearing, Kelley told reporters that wholesalers offered H. 2823 as a "compromise" in order to support breweries in the "startup phase," not larger breweries that have received private equity investments.
"You're not playing junior varsity anymore, you're playing varsity," he said. "You're in the major leagues."
Kelley told reporters that, over the years, brewers have proven inflexible by continually seeking a 20 percent exemption.
"The breweries have not changed their position one iota in the past six years," he said. "For the first time, we've stepped up, listened to the speaker, the senate president, we put our heads together and came up with House 2823."
Kelley said H.183 would be "devastating" to his members' businesses and lead to job losses.
"The reality is that 60 percent of a distributor's business could walk out overnight under the proposal," he said. "It's very self-serving."
But if H.2823 were to pass, four Massachusetts beer companies currently making more than 30,000 barrels annually — Boston Beer Company, Harpoon, Wachusett Brewing Company and Jack's Abby — would be cut out of the deal.
And another group of brewers is right behind them. Cisco Brewers and Ipswich Ale Brewery produced just less than 30,000 barrels in 2016, while other up-and-coming breweries such as Trillium, Tree House, Night Shift and Wormtown are all on pace to produce more than 30,000 barrels over the next couple of years. It should be noted, however, that Wormtown is the only outfit that works with traditional beer wholesalers (the other three currently self-distribute).
Meanwhile, as Woburn's Lord Hobo Brewing hopes to prove this year, the 30,000-barrel threshold is something an ambitious and well-capitalized startup could eclipse in about three year's time.
This has led the brewers, who want the ability to grow without the fear of eclipsing a cap, to throw their weight behind the other bills.
Testifying on behalf of small brewers were Medusa Brewing Company co-founder Keith Sullivan, Brazo Fuerte founder Bev Armstrong and Koch, who pointed to the 350 million barrels A-B InBev sold globally in 2016, saying his company is only 1/100th the size of the beer giant.
"If you're only 2 percent of the beer market, you probably don't control your wholesaler like the people who are 70 percent of the beer market do," Koch said.
It should be noted, however, that A-B produced and sold about 93 million barrels of beer in the U.S. last year. Boston Beer, which does not distribute internationally, produced about 2.3 million barrels of beer in 2016 (about 1/40th the size of A-B's U.S. business).
Nevertheless, as a result of the way franchise laws are currently written, Koch and other small brewers feel that wholesalers are not incentivised to promote their brands.
"We can't hold wholesalers accountable if they don't do the job for us, that they are doing for their big brewer," he said. "We can't do anything. We are at the mercy of the wholesalers allocating their effort."
Koch also told lawmakers that the lack of accountability has forced him to hire 20 salespeople in Massachusetts.
"That's a pretty good indicator of how much control you have over a distributor if we have more salespeople in Massachusetts than Bud and Miller put together," he said.
Despite seeking changes to the current franchise laws, Koch told lawmakers he has never terminated a wholesaler for "bad performance" throughout his company's 33 years of business.
"We always work to fix the relationship," he said.
Koch also told committee members that existing franchise laws devalue breweries' worth by about a third due to the nearly unbreakable bond created by the law.
"I know because we've looked at buying other craft brewers," he said, "and because of the franchise law, we deduct about $.35 on the dollar."