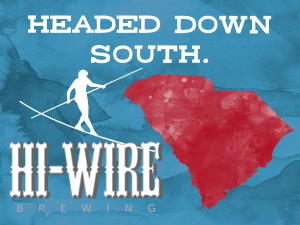 Asheville, NC – Starting the second week of September, Hi-Wire Brewing will begin pouring its ales and lagers outside of North Carolina for the first time. The launch of their products into South Carolina comes on the heels of the opening of their 27,000 square foot Big Top facility (2 Huntsman Place, Asheville, NC 28803) in July, which greatly increased the production of their flagship and quarterly released seasonal ales and lagers.
"We couldn't be more excited about entering our first market outside of North Carolina," said Adam Charnack, co-founder of Hi-Wire Brewing. "We brew a product that we love and are proud of, beers we believe in, why wouldn't we want to share that with craft beer drinkers outside of our state?"
Hi-Wire Brewing proudly partnered with four distributors to bring their beer to South Carolina. These partnerships include Greenville and Columbia-based KW Beverage; Spartanburg based Budweiser of Spartanburg; Southern Eagle in the Charleston and Hilton Head area, and Myrtle Beach-based Yahnis Company.
To celebrate the launch of Hi-Wire's brews in the new state, craft beer drinkers will be able to join the co-owners and sales team of Hi-Wire Brewing at a variety of tap takeovers, beer pairings and other specialty events throughout September and October. Between Monday, September 7th and Saturday, September 12th, events will be held in the Charleston and Hilton Head areas. For a complete list of events that will be happening that week, please visit http://chsbeer.org/events.
In addition to Charleston, the Hi-Wire Brewing team will be in the Spartanburg, Greenville and Columbia the week of Monday, September 28th as well as Myrtle Beach the week of October 20th. They will also host a variety of tap takeovers, beer pairings and tasting events across these cities.
Hi-Wire Brewing will bring their four flagship beers into South Carolina including Hi-Pitch IPA, a balanced IPA brewed with Centennial and Zythos; Bed of Nails Brown, a delicious brown ale that is Hi-Wire's best seller in North Carolina; Hi-Wire Lager, crisp lager that is extensively lagered for 7 weeks; and Prime Time Session Pale Ale, an aggressively hopped pale ale that light on the palate. In addition to these four core beers, Hi-Wire will kick off the launch of the new state with the first beer in their seasonal lager series, Zirkusfest Oktoberfest Lager, as well specialty beers including Hop Circus Experimental IPA Series Volume 2: Azacca and El Dorado and Farmhouse Series Volume 1.
About Hi-Wire Brewing:
Located in Asheville, NC, Hi-Wire Brewing is known for producing approachable and balanced ales and lagers, most notably Hi-Wire Lager, Prime Time Session Pale Ale, Bed of Nails Brown, and Hi-Pitch IPA. Hi-Wire was awarded the most medals at the 2014 NC Brewer's Cup and Best New North Carolina Brewery of 2013 by RateBeer. Hi-Wire's award-winning beers can be found on draft and in bottles across North Carolina. As of July 25th, craft beer drinkers are able to enjoy Hi-Wire beer at their new Big Top location, a 27,000 square foot production facility located a half a mile from the Biltmore Estate. In addition to their flagship beers, Hi-Wire offers a rotating selection of seasonals, including Lion Tamer Rye IPA, Strongman Coffee Stout, Zirkusfest Oktoberfest Lager and Twice as Nice Doppelbock as well as a variety of single release beers brewed and bottled in their South Slope Taproom and Brewery. Learn more about the company at www.hiwirebrewing.com.