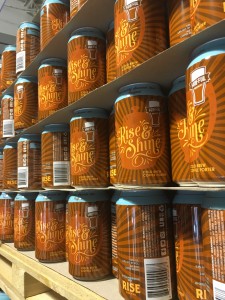 Stamford, CT – Half Full Brewery ("Half Full") is happy to announce the release of a new collaboration-based series of beers called the Community Sourced Ales Project ("CSA Project"). The CSA Project will highlight collaborations with both brewers and other craft-centric local businesses. The first beer in this project, Rise & Shine (8.5% ABV/25 IBUs), is a cold-brew coffee porter brewed in collaboration with Rise Coffee of NYC and Connecticut. Rise & Shine will make its debut this Friday 9/30 at the Half Full Brewery with a limited market release to follow.
"At the Half Full Brewery we believe that collaboration is about more than two logos on a can," says Jordan Giles, Director of Marketing at Half Full, "It's about working together to realize a shared goal. The goal with the CSA Project is to bring you totally unique beers in collaboration with craftsmen from within the community – to prove that you really can love what you do (and have a beer or two along the way)."
The collaboration with Rise Coffee started innocently enough. Rise Coffee was looking for space to start brewing and packaging their newly developed cold-brew coffee, and they stopped by Half Full to check out their facility. A conversation was sparked, and a year later, a beer was brewed. "When Half Full approached us about making a community-sourced, cold-brew coffee porter, we cheered – we've wanted to pair our goods with beer since the day we started making coffee," says Hudson Gains-Ross, Co-Founder of Rise Coffee.
"To make Rise & Shine, we took a big, bad porter and added a smooth coffee kick, courtesy of Stamford's own Rise Coffee," says Tom Price, Director of Brewing Operations at Half Full. Rise & Shine has a full roasty body, moderate bitterness, notes of dark coffee, and rounds out with a complex yet smooth finish. Rise and Shine will be available in cans and on draft for a limited time only. The next beer in the CSA Project is "Bee Enlightened", a Kolsch brewed with honey from Red Bee Apiary in Weston that will release early in 2017.
About Half Full Brewery:
At Half Full Brewery, we have three simple, albeit lofty goals: constantly make beers and experiences that people can look forward to; inspire people to find optimism through those beers and experiences; and to make the place that we work representative of our name. Want to learn more? Visit our Stamford, CT facility, listen in on our Podcast, or check us out on the web at halffullbrewery.com and @halffullbrewery on Instagram, Facebook, and Twitter.
About Rise Coffee: 
At RISE Coffee, we focus on making good coffee great. Born in NYC and brewed in CT, we sell organic, non-GMO, fair trade nitro cold brew coffee in kegs and cans to offices, restaurants, cafes, and bars in NYC, CT, LA, and Nashville. We're grateful for the customers and clients who have got us to where we are today. Want to learn more: Visit us at one of our locations or check us out on the web at risecoffee.com and @risecoffeeco on Instagram, Facebook, and Twitter.