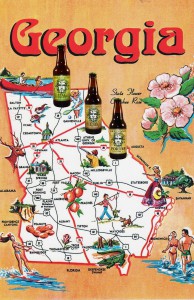 Asheville, NC – Starting in June, craft beer drinkers will be able to find Green Man beer on shelves in Georgia. This will be the fifth distribution state for the Asheville, NC-based brewery, after expanding distribution in North Carolina, South Carolina, Tennessee, and Florida. Green Man began bottling 6 packs in 2013 and since has been steadily filling out its distribution footprint throughout the Southeast.
Athens, Augusta, and Gainesville are Green Man's first distribution cities in Georgia, and will primarily be sold at off-premise retailers in the form of 6 packs.  Green Man has partnered with wholesale distributors Leon Farmer and Company in Athens and Gainesville and J&L Ventures in Augusta.
Green Man's flagship beers, IPA, ESB, and Porter will be the first to hit the shelves, with seasonal 6 pack bottles and cans to follow.  Find Green Man beer at select retailers where great craft beer is sold.
About Green Man Brewery:
The legendary Green Man has existed for centuries but it's no myth that he's been brewing great beer in Asheville since 1997. Green Man has been producing some of the beer scene's most iconic ales for 19 years. The English style flagships are consistently recognized for quality, and the specialty and barrel-aged offerings are highly sought after.  Green Man recently opened a 20,000 square foot expansion next to the current facility on Buxton Avenue in downtown Asheville.