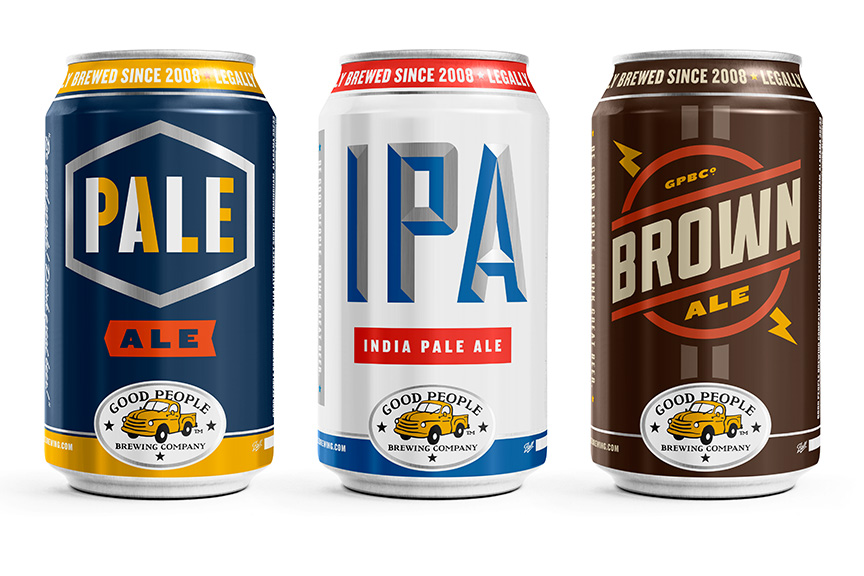 BIRMINGHAM, Ala. — Good People Brewing Co. has announced new packaging for its staple offerings — IPA, Pale Ale and Brown Ale — completing a rebrand of the craft brewery's year-round "Ales from the Heart of Dixie" line that began last year with the release of their popular Coffee Oatmeal Stout.
Fans can sign up at www.GoodPeopleBrewing.com to receive an email alert when the cans hit store shelves.
"Delivering consistent beer continues to be our top priority, but we know that continued success requires solid branding," said Michael Sellers, Good People co-founder. "Our packaging has to be unique and stand out for its quality."
The new cans feature a cleaner approach that uses a rich, vibrant color palette, sharp angles and simple, bold typography in order to maximize shelf presence.
The raw aluminum surfaces of the cans themselves serve as subtle design elements. Used in letterforms and shining through solid fields of color, the aluminum cans interact with light in an eye-catching way.
As with all Good People beers, IPA, Pale Ale and Brown Ale are brewed and canned onsite at Alabama's largest craft brewery, located across from Regions Field in Birmingham.
Good People recently opened a laboratory at the nearby Innovation Depot to monitor the brewing process, ensuring efficient production of the most consistent, fresh beer.
The oldest craft brewer in Alabama and the first in Birmingham to can their beers, Good People has remained at the forefront of the surge of the craft brewing industry across the state. With its beer already at select locations in Tennessee and in large grocery store chains in Alabama, the brewery is also making plans to expand their footprint.
"More than being the dominant craft brewery in Alabama, we are positioning ourselves to become a brewery that serves the region," Sellers said. "Demand for our beers continues to grow, and we're answering the call by finding more opportunities to make our beers available in grocery stores, bars and restaurants across the South."
The new Good People packaging, including designs for Coffee Oatmeal Stout, Snake Handler, Bearded Lady and El Gordo, was created by the Birmingham office of branding agency Lewis Communications.
About Good People Brewing Co.
Good People Brewing Co. was founded July 4, 2008, in Birmingham, Ala., by two friends with a love of drinking and brewing great beer. In addition to brewing five year-round "Ales from the Heart of Dixie" beers, Good People also brews four seasonal beers and their highly anticipated Bearded Reserve. Good People beers can be found in bars, restaurants, grocery and package stores across Alabama and Tennessee. More information can be found at www.GoodPeopleBrewing.com. Find Good People on Facebook, Twitter (@GPBrewing), and Instagram (@goodpeoplebrewingco).