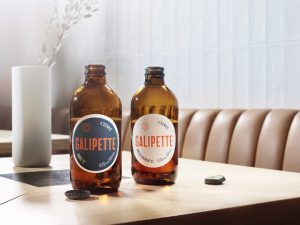 France — Cider Supply Co. (CSCo.) has entered long term strategic distributor agreements with Diamond Beverages in Finland and PRIKE in Baltics, covering Estonia, Latvia and Lithuania. The agreements cover exclusive, nationwide distribution and brand activation rights for the award winning Galipette Cidre.
Diamond Beverages is considered the leading craft beer distributor in Finland representing brands such as Founders Brewery, Paulaner, Estrella Damm and having played a vital role in the unprecedented success of Brewdog launch in the Finnish market in the past few years.
CSCo. co-founder Michael Nordblom commented:
"We are excited to share the news on signing both Diamond Beverages and PRIKE. For us it was crucial to find a partner in Finland who not only has a big belief in our brand and product, but who also has a track record of building craft propositions from business point of view in the market. Having engaged in dialog with Diamond Beverages it was soon clear that we share a vision for how to disrupt the market with Galipette Cidre."
PRIKE is regarded as the leading importer, distributor and sales and marketing company of premium beverages in the Baltic countries.
"As far as finding a partner in Estonia and the wider Baltics region, we were impressed by the vision, the talented team and the results Prike has shown within the premium beverages segment in the past two decades so our decision to partner with them was a natural one", concludes Nordblom.
Armin Mähhar, Business Development Director of Prike Baltics adds:
"Prike is excited about this unique opportunity to start a partnership with Cider Supply Co for Galipette Cidre in the region and we are looking very positively ahead to make Galipette a long term success in the market."
Galipette Brut wins Gold
Galipette Brut has won Gold in the 2017 edition of the prestigious International Brewing and Cider Awards. 139 cider variants participated from 53 cider mills around the world.
According to the organiser "An Award is a recognition by fellow professional cider makers that a cider is an outstanding commercial example of its style. The Competitions were first run in 1888 – constantly developed to reflect the global market for beer and cider."
Chair of judges Bill Taylor commented, "Judges put in long hours assessing and debating the merits of the products to select the winners and the final list is an impressive showcase for the very best in brewing and cider making around the world."
Specifically on Galipette Brut, the judges summarised, "Big bittersweet, funky, french style. Excellent exponent of the style. Very commercial and enjoyable."
Galipette Cidre is a pure French cider made of 100% fermented apple juice and never from concentrate. It is locally produced and bottled in Brittany and Normandy.