SEATTLE – Fremont Brewing is excited to announce the release of Independent IPA, a special, small-batch beer brewed exclusively for Oregon. Independent IPA's label features Oregon's state motto, She Flies with Her Own Wings, and an adaptation of Fremont's Heron logo. The Oregon-only beer will arrive in Oregon this week in 22-ounce bottles and on draft at select bars and retailers across the state.
Independent IPA will be featured at the following events:
4/26: The Upper Lip, 720 SW Ankeny St, Portland, OR, 4pm
4/27: Belmont Station, 4500 SE Stark St, Portland, OR, 5pm
4/28: 16 Tons Taphouse & Bottleshop, 265 E 13th Ave, Eugene, OR, 5pm
4/28: Arch Bridge Taphouse, 205 7th St, Oregon City, OR, 6pm
4/29: N.W.I.P.A., 6350 SE Foster Rd, Portland, OR, 6pm
INDEPENDENT IPA: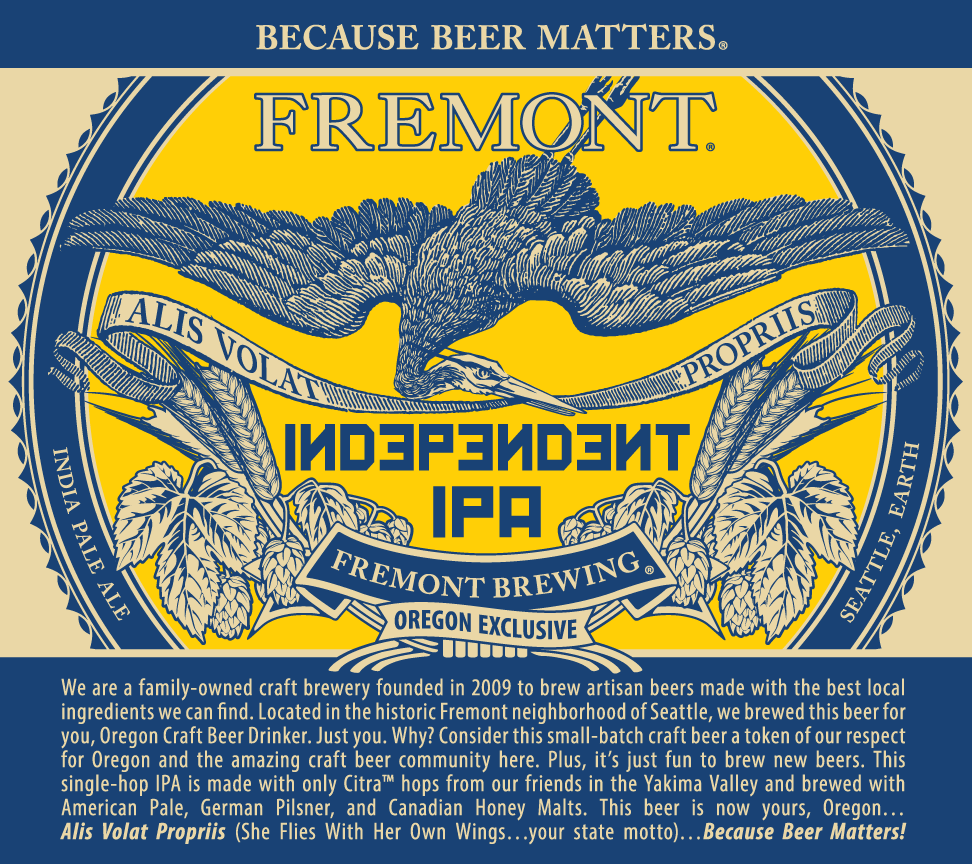 Label Copy: We brewed this beer for you, Oregon Craft Beer Drinker. Just you. Why? Consider this small-batch craft beer a token of our respect for Oregon and the amazing craft beer community here. Plus, it's just fun to brew new beers. This single-hop IPA is made with only Citra hops from our friends in the Yakima Valley and brewed with American Pale, German Pilsner, and Canadian Honey Malts. This beer is now yours, Oregon…
Alis Volat Propriis (She Flies With Her Own Wings…your state motto)…Because Beer Matters!
Down & Dirty: 2-Row Pale, Pilsner, and Honey malts with Citra hops
ABV: 7.0%
IBU: 80
Color: Yellow-Orange
Aroma: Bright tangerine, tropical, fresh hops
Flavor: Grapefruit, tropical fruit undertones, mild biscuit finish
Availability: 22oz bottles and draft in Oregon only
About Fremont Brewing:
Fremont Brewing is a family-owned craft brewery founded in 2009 to brew artisan beers made with the best local ingredients available. Fremont's beer is distributed in kegs, cans, and 22 oz bottles throughout WA, OR, and ID and can be enjoyed everyday at their kid- and dog-friendly Urban Beer Garden in Seattle's Fremont neighborhood.  In addition to its reputation for consistent quality and innovation, Fremont Brewing is a recognized leader in sustainable brewing operations and community engagement. Because Beer Matters!