SOMERDALE, NJ – New Jersey's most award-winning craft brewer, Flying Fish Brewing Co., couldn't decide on one specialty beer to mark its 20th anniversary, so its BrewCrew is releasing three new Exit Series™ limited-release craft beverages to mark the occasion. Sour Forage Beer from Exit 5, featuring hints of the New Jersey Pinelands, Pork Roll Porter from Exit 7, a toast to New Jersey's favorite breakfast meat, as well as Imperial Pilsner from Exit 14, will all be launched with a ceremonial tapping on Thursday, 9.1.16 at Flying Fish's Somerdale brewery headquarters at 4 p.m. Pork Roll Queen 2016 Jamie Miller will be on hand for the occasion, along with special guests from the Pinelands Preservation Alliance, New Jersey Conservation Foundation, Trenton Pork Roll Festival and other surprise guests.
Of celebrating twenty years of Flying Fish, founder Gene Muller says, "So much has changed in the New Jersey brewing scene since 1996. When we opened, most folks didn't get the idea of a locally brewed beer. A lot of the time, we were asked if it was brewed locally, why wasn't it the lowest priced option. There were so few craft brewers; the next closest breweries to Flying Fish were Triumph in Princeton and Tun Tavern in Atlantic City. Now, the consumer understands and appreciates the locally brewed specialty craft beverage; it shows in the marketplace as there are at least 20 breweries within 20 miles of us. We have a loyal following that understands the nuances of the craft beverage and the work that goes into creating something special in each. It's a great time to be a New Jersey beer consumer."
Muller adds, "Twenty years calls for a celebration. We created three dynamic craft beverages that each capture an essential piece of New Jersey. How can we choose just one for such a big anniversary? This is our thank you to Flying Fish fans for twenty great years." says Gene Muller, President and Founder of Flying Fish.
Up first is Exit 5, a Sour Forage Beer brewed with pine needles, wintergreen, and goldenrod. This Saison style is part of the Beers Made by Walking project that encourages brewers to create a beer inspired by the environment local to their brewery. Flying Fish worked with the Pinelands Preservation Alliance and the New Jersey Conservation Foundation to explore New Jersey's Pinelands National Reserve. The result is a medium bodied beer with a dry, tart herbal flavor. The herbal notes of the foraged pine needles, goldenrod and wintergreen (all found on private land) blend perfectly with the peppery, earthy notes of the Saison.
Next is Exit 7's Pork Roll Porter celebrating the State's quintessential breakfast meat. This deliciously dark brown caramel porter is enhanced by the addition of pork roll and spices in the brew kettle. The aroma features notes of cocoa, with hints of maple and smoke from the peat-smoked barley. The flavor showcases characters of chocolate, maple, toasted nuts and a bit of spice from the pork roll.
Exit 14 is represented by an Imperial Pilsner, clocking in at 8.5% alcohol by volume, and is a nod to that very large multinational lager brewery right off the Turnpike. This pilsner lager style includes an international mix of hops from Germany, France and the US. It's a beer with many layers. The first is a floral, fruity aroma. Next, black currant reveals itself. Another layer brings a complex spiciness. All of these backed by a big, hoppy bitterness.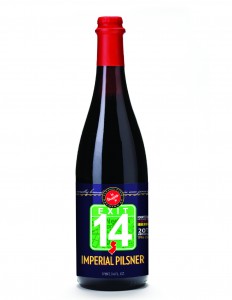 These are the twelfth, thirteenth and fourteenth brews released in the Flying Fish Exit Series. All three beers are extremely limited and will be available in 750 ml bottles and a small number of kegs. Beers will be made available for purchase at the brewery as well as at retailers in NJ and PA.
About the Exit Series:
The Exit Series of beers is a multi-year brewing experiment to brew a series of beers as diverse as the great state of New Jersey. The idea originated when Gene Muller was stuck in traffic on – where else? – the New Jersey Turnpike. These big beers–each beer is 750 ml and packed with flavor– will be unveiled individually; each will celebrate a particular exit of the state-long artery, the New Jersey Turnpike, focusing on a characteristic of the area surrounding the exit for which it is named. Some of the most successful releases have reappeared in 12 oz. bottles as seasonal or year-round offerings. (For more on each Exit Series craft brew, visit flyingfish.com.)
About Flying Fish Brewing Company:
Flying Fish Brewing Company was established in 1995 as the world's first virtual microbrewery, something novel that drew a lot of attention. Capitalizing on this early notoriety, founder Gene Muller took Flying Fish into brick and mortar, constructing the first microbrewery in South Jersey. While New Jersey once boasted more than 50 breweries, Flying Fish was the first new brewery built in Southern New Jersey in more than half a century. Business grew, and Flying Fish now produces a range of beers year-round, along with a variety of seasonal specialties. Flying Fish beers are eight-time medal winners at the Great American Beer Festival, the most of any New Jersey brewery. Success meant expansion, and in 2012, Flying Fish moved from Cherry Hill to its new facility in Somerdale, making it the largest brewery built in the state since prohibition. The tasting room at Somerdale now offers weekly one-off and barrel aged beers. This facility also boasts many sustainability features to brew the award-winning beer in the most environmentally friendly way possible. Flying Fish primarily distributes in Delaware, Eastern Pennsylvania, Maryland, New Jersey and Washington D.C. Flying Fish is also known for its ties to the community: each year, the company donates more than $100,000 in goods, services and merchandise to local nonprofit causes. For more information about Flying Fish, please visit www.flyingfish.com or call (856) 504-3442.