Los Angeles, CA – First Beverage Financial, the investment banking arm of First Beverage Group, announced that it acted as the financial advisor to Devils Backbone Brewing Company in its agreement to sell to The High End, the craft business unit of Anheuser-Busch. Terms of the transaction, which is expected to close in the second quarter of the year, were not disclosed.
Named for a steep point in the Blue Ridge Mountains of Virginia, Devils Backbone produces Vienna Lager, its flagship beer, as well as several award-winning brews, including Eight Point IPA and Schwartz Bier. Co-founded in 2008 by husband and wife duos Steve and Heidi Crandall and Rod and Martha Ferguson, the brewery began as a brewpub concept named Basecamp after the Crandalls returned from a ski trip to northern Italy where they were inspired by Germanic-style beers. Following the success of Basecamp, the company opened its Outpost brewing facility in 2012, which was originally projected to produce 10,000 barrels in its first 10 years and wound up producing 45,000 annually by its third year. Today, the Outpost Brewery & Taproom serves as the primary production brewery while Basecamp Brewpub & Meadows serves as a visitor destination.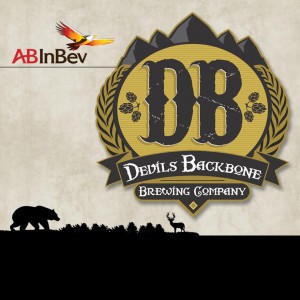 "First Beverage Group did a remarkable job of guiding us through the complicated process of finding a partner to help us grow our brewery," said Devils Backbone co-founder Steve Crandall. "They were able to succinctly identify our dreams and vision about the future of our business and convey these ideas to potential partners so that we were able to quickly identify the right folks to align with. Their breadth of knowledge and contacts in the beer business is outstanding. At the end of the process they have become our dear friends and trusted advisors."
"Steve Crandall and his team have built a truly unique destination brewery in the mountains of Virginia that resonates with Devils Backbone's outdoor and adventure-oriented consumer," said Townsend Ziebold, managing partner of First Beverage Group. "We are glad that First Beverage could play a role in finding a partner who will continue to support Devils Backbone's innovation, capital expansion plans and vision for the Basecamp Brewpub & Meadows."
"Devils Backbone was one of the most exciting and complex projects we have worked on to date," said JB Shireman, director of First Beverage. "The project was centered around the Crandalls' vision for building out their campus, which is the most unique one that I have visited. Steve has many plans for the future and The High End team has fully embraced this vision, and is fast-tracking certain aspects of it. This is going to be very exciting to watch going forward. First Beverage is honored to have been a part of this transaction."
About First Beverage Group
First Beverage Group is a full-service financial services firm dedicated exclusively to the beverage industry. First Beverage provides a comprehensive range of products, including investment banking and investment funds for growth capital to leading beverage entrepreneurs and operators. Headquartered in Los Angeles with offices in Boston and New York, the First Beverage team is made up of senior executives with over 200 years of beverage industry experience. For more information, please visit the company's website, www.firstbeveragegroup.com.
About Devils Backbone Brewing Company
Devils Backbone beers are inspired by the great brewing traditions of Europe and the ingenuity of modern craft brewing. Devils Backbone has earned numerous accolades for its beers, exceling in the art of lager brewing in an ale-dominated industry. The brewing team has received awards from the World Beer Cup, Australian International Beer Awards, medals from the Virginia Craft Brewers Fest, and the Great American Beer Festival, including national titles for GABF 2014 Mid-Sized Brewing Company and Brew Team of the Year, 2013 Small Brewing Company and Small Brewing Company Brew Team of the Year, and 2012 Small Brewpub and Small Brewpub Brewer of the Year.
Devils Backbone operates two breweries in central Virginia. Basecamp Brewpub & Meadows located at the foot of the Blue Ridge Mountains in scenic Nelson County, and the Outpost Brewery & Tap Room, a state-of-the-art production brewery.
About Anheuser-Busch
For more than 160 years, Anheuser-Busch and its world-class brewmasters have carried on a legacy of brewing America's most-popular beers. Starting with the finest ingredients sourced from Anheuser-Busch's family of growers, every batch is crafted using the same exacting standards and time-honored traditions passed down through generations of proud Anheuser-Busch brewmasters and employees. Best known for its fine American-style lagers, Budweiser and Bud Light, the company's beers lead numerous beer segments. Budweiser and Bud Light Lime Lime-A-Rita were named Brands of the Year for the Beer and the Spirits, Malt Beverages and Wine categories, respectively, by Ace Metrix® in 2014. Anheuser-Busch is the U.S. arm of Anheuser-Busch InBev and operates 17 local breweries, 21 distributorships and 23 agricultural and packaging facilities across the United States. Its flagship brewery remains in St. Louis, Mo., and is among the global company's largest and most technologically capable breweries. Visitor and special beermaster tours are available at its St. Louis and five other Anheuser-Busch breweries. For more information, visit www.anheuser-busch.com.
About The High End
The High End is a business unit of Anheuser-Busch, created to provide its unique craft and European import brands with autonomy and support for growth, while fostering a collaborative environment for the brightest brewers in the beer community. The High End brings dedicated resources to support the growth of its brands, create successful partnerships and deliver more variety to consumers. Established now, The High End includes brands such as Stella Artois and Shock Top, along with craft breweries Goose Island, Blue Point, 10 Barrel, Elysian, Golden Road, Virtue Cider, Four Peaks and Breckenridge Brewery.