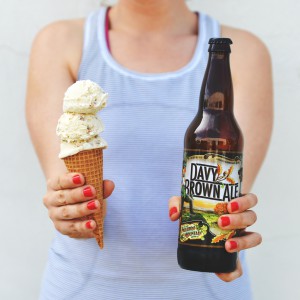 Buellton, California— Local ice cream purveyor, McConnell's Fine Ice Creams, recently launched a new flavor aimed at adults using beer from Figueroa Mountain Brewing Company.  The new flavor is Davy Brown Ale incorporating the award-winning brown ale of the same name.  Davy Brown Ale Ice Cream pints are now available at McConnell's Ice Cream and Yogurt Shop (728 State Street in Santa Barbara) and in Figueroa Mountain Brewing Company's Santa Barbara taproom (137 Anacapa Street, Suite F in Santa Barbara's Funk Zone).  Buy a 22-ounce bottle of Davy Brown Ale and get a $1.00 off your pint of ice cream, or vice versa.  Just bring your receipt to either location for your discount.
"We'd made a few beer ice creams in the past, but this was an opportunity both to work with a brewery we're huge personal fans of and take the time to really hone in on what it takes to make an exceptional beer flavor," explains McConnell's owner, Michael Palmer.  "Like any flavor, it's always about achieving a balance of flavor profile. The Davy Brown Ale was a perfect match to the creaminess in the ice cream. Folding in the salty brittle took it to that next level. The Davy Brown Ale had all the properties needed to help our process and we're super happy with the results. We hope McConnell's and Fig Mountain customers are as well!"
Figueroa Mountain Brewing Company's Retail Operations Manager, Tony Grimes, agrees with Palmer: "Combining two of my favorite things—Fig beer and McConnell's ice cream—is a dream come true.  It's the best of both worlds."  He adds that Davy Brown Ale has won nine medals and is one of the brewery's core beers.  "I love the mocha-flavor of this beer.  The caramel and chocolate malts make this the perfect beer for ice cream."
For more information about Figueroa Mountain Brewing Company, their taprooms and beers, please visit www.FigMtnBrew.com.
About Us
Figueroa Mountain Brewing Co. was founded by father and son team, Jim and Jaime Dietenhofer, in 2010.  With a passion for craft beer, they set out to pay homage to the beautiful Santa Ynez Valley with handcrafted beer and hand-drawn artwork depicting the local landscape on their labels. They brought on Brewmaster AJ Stoll who now oversees a team of brewers in their Buellton, California brewery.  With three locations in Santa Barbara County, Figueroa Mountain Brewing Co. beer can be found in their taprooms or at select retailers and restaurants throughout California.  Learn more about #FigMtnBrew or where to find their beer at www.FigMtnBrew.com.