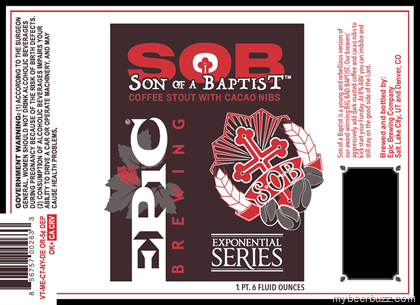 Salt Lake City, UT – When we're crafting a beer hops are not just hops and coffee is not just coffee. We source our ingredients from all over the world; we meet the farmers and maltsters and constantly seek out innovation and quality. In our latest project "Son of a Baptist" we've partnered with 10 exceptional coffee roasters from across the nation to create a beer that showcases just how unique and special coffee beans really are.
Son of a Baptist is an 8% ABV imperial stout. It is not barrel aged like its father, Big Bad Baptist; instead its flavor profile was designed to highlight the complex and often unique flavors of small batch coffees. Instead of sourcing a coffee that would play well in a beer we sought out creative and innovative roasters, then asked them which beans they're passionate about.
Each resulting release of Son of a Baptist is widely different depending on the coffee selected. Some are fruity and sweet with notes of jam and chocolate, others are rich and earthy with a big roasted finish. Each limited release is numbered and stamped. The corresponding details and tasting notes can be found on our website. Each release will return to the Roaster's home market where the beer and the coffee can be sampled side by side.  
"Son of a Baptist shares some similarity to Big Bad Baptist but its purpose it very different. Son of a Baptist was built from the ground up to showcase coffee. By simplifying the malt bill and removing the complexity that barrel aging adds we were able to let the beans shine through," explains brew master Kevin Crompton. "Initially we were looking for coffees similar to those we've used in Big Bad Baptist but the recent trend toward lighter roasted beans with wonderful berry and tobacco notes inspired us to seek out artisanal coffee roasters."
Son of a Baptist will only be available on draft this spring with plans to introduce 12oz cans in late 2016. Below is a list of coffee roasters and markets for the initial draft release.
Stauf's Coffee Roasters – Columbus, Ohio
Stauf's is a micro-roaster in Columbus, Ohio that is passionate about the entire process of achieving the finest cup of coffee – from acquiring the highest quality arabica beans, to roasting exclusively on gas-fired coffee roasters. Through a combination of art and science we roast each specific bean to its most desirable flavor characteristic.
Novo Coffee – Denver, Colorado  
Founded in 2002 by Jake, Herb, and Joseph Brodsky, Novo Coffee states on their website: "Coffee is commonplace, yet a truly great cup reveals a complex process." And that complex process shines at Novo where they roast green coffee beans in beautiful vintage Vittoria machines, and offer some of the most distinctive coffees available in today's marketplace.
Rowster Coffee – Grand Rapids, Michigan 
Rowster Coffee believes that coffee is, by its very nature, a communal beverage, and every cup overflows with relationships from where it is grown to where it is shared.
Red e Café – Portland, Oregon 
Founded by Mindy Farley and Keith Miller, Red e Café features nuanced roasts that highlight complexity. We fell in love with some of his lesser known African coffees – especially the Rwandan Buremera picked for our Oregon batch.
Cultivar Coffee – Dallas, Texas 
Cultivar Coffee Roasters was founded by Jonathan Meadows and Nathan Shelton in 2009. Cultivar is firm in their commitment to socioeconomic responsibility, obsessed with process and quality and committed to sourcing only the best coffee they can get their hands on.
Caffe Ibis – Logan, Utah 
Caffe Ibis is a family owned and operated award winning "Green Business" and artisan custom coffee roasting house founded in 1976 by Randy Wirth and Sally Sears. They focus on specialty grade, mountain grown and mountain roasted certified organic, fair trade and shade grown coffee.
Conduit Coffee – Seattle, Washington 
Conduit: a pathway towards better coffee. Our coffee is ethically and sustainably sourced, roasted kindly, and delivered locally by bicycle.  
EVP Coffee – Madison, Wisconsin 
EVP is short for 'Etes-vous prets?' which is French, and means "Are you ready?" EVP is committed to social responsibility first and foremost, "Our intention since we opened has been to serve all people beautifully, and in the spirit of kindness and love and to serve our community with honesty and accountability." They roast their beans using a Sivetz Fluid Bed Roaster, which uses fresh hot air to roast coffee rather than a heated surface used by traditional barrel roasters.
Snake River Roasting Company – Jackson, Wyoming
Snake River Roasting Co. is committed to using certified organic coffees from some of the finest coffee producers in the world. They roast in the Northern Italian style in small batches, to bring forth each bean's natural flavor complexity, which has resulted in national recognition for their coffees.
Misha's Coffee – Alexandria, Virginia
Some things deserve time, care, and attention to detail. At Misha's, we think coffee is one of those things. Our beans are hand-picked, hand-roasted in small batches every day, by a master (and mistress) roaster. All those steps really do make the best coffee you'll ever have. That's not hyperbole – it's true.
About Epic Brewing Company:
Epic Brewing Company, LLC was opened in May of 2010 in Salt Lake City and expanded to Colorado in 2013. Epic is known for its passion for style and currently offers over 40 distinctly different bees. Epic is distributed in the following states: Arizona, California, Colorado, Idaho, Indiana, Kansas, Michigan, Minnesota, Montana, North Carolina, New Jersey, Nevada, Ohio, Oregon, Texas, Utah, Virginia & Washington D.C., Wisconsin, Wyoming.