Another top U.S. craft brewery is changing hands.
As announced late last night, Duvel Moortgat will add to an impressive roster of American craft brands – one that already includes Kansas City's Boulevard Brewing and New York's Brewery Ommegang — by "combining" its U.S. operations with California's fourth largest craft beer company, Firestone Walker Brewing.
Specific financial and contractual details were not disclosed and both companies have declined to comment on the precise nature of the deal.
Nevertheless, sources Brewbound interviewed have characterized the transaction as an "acquisition," and not a merger (traditional mergers typically involve two companies exchanging stock to create a single entity whereas acquisitions most often include the sale of ownership stakes in exchange for cash and/or stock in the acquiring company).
Industry trade publication Beer Marketer's Insights speculated the deal could be valued around $250 million. That amount closely mirrors a Wall Street Journal valuation estimate from last November, which pegged craft brewery multiples at $1,000 per barrel. By comparison, when Duvel acquired Boulevard 20 months ago – at the time an 187,000-barrel brewery — it paid about $100 million, according to sources familiar with the transaction.
Firestone Walker produced 208,000 barrels in 2014, up 38 percent from the year prior. The company is projecting another year of growth in 2015, with current production forecasts in the neighborhood of 272,000 barrels, according to Duvel USA chief Simon Thorpe.
Combined, the two companies are projected to make upwards of 540,000 barrels in 2015, which would catapult Duvel USA to No. 7 on the Brewers Association's top-50 craft brewery list. The trade group currently ranks Duvel USA as the 12th largest craft brewer.
In a conversation with Brewbound, Thorpe described the deal as an "investment that is all about enabling Firestone to accelerate growth."
"Together we can achieve a lot more than we can on our own," he said.
A Relationship Develops
Duvel has "long admired" Firestone Walker, according to Thorpe. It spent the last few years getting to know co-founders David Walker and Adam Firestone but, as most transactions go, things "really developed over the last eight weeks," Thorpe said. He credited Duvel Moortgat CEO Michel Moortgat with being an "instrumental" part of the negotiation process and described him as the "architect" of the deal.
In an email to Brewbound, David Walker explained his relationship with the Moortgat family and his decision to sell.
"As a family business, it wasn't hard to warm to the Moorgats and, after a while, we quickly realized our paths were parallel and now crossing," he wrote.
"[A] Small family owned brewer, focused on quality and cultivating small breweries and their traditions, Duvel has tended to a handful of iconic small brewers in Europe for decades, elevating and preserving their culture. They are not rich, but had enough capital to help us to the next level without too much stress to the system," he added.
A Mutual Respect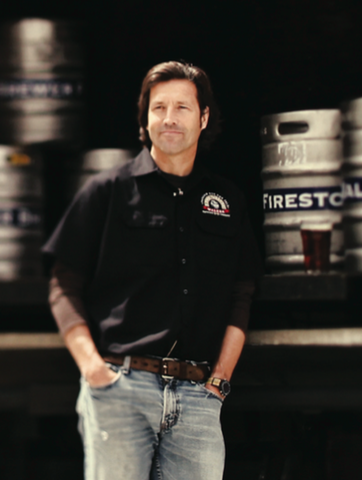 Both Thorpe and Walker expressed their mutual appreciation for each other's organizations.
"They have beautiful brands, incredibly talented people, they think the way we do and they want to be at the top of the quality pyramid," Thorpe said. "There is this Simpatico between Firestone Walker and Duvel and a mutual admiration and affection."
Calling the partnership an "elegant solution," Walker said the combination of the two entities makes Firestone Walker an "American craft brewer stronger today than yesterday."
"Duvel Moortgat maintains a singular focus on quality," Walker and co-founder Adam Firestone said in a statement. "They begin and end each sentence with that word. This is a universal language we understand. In the end, our conversations always return to the beer, and this is the driving principle that underwrites this partnership. There is a clear respect and reverence for the art and work of brewers that aligns with our values and plans for the future."
A New Chapter
Walker described the company's future planning efforts as a "tortured long journey trying to figure out the next chapter" and said it considered a variety of other options before agreeing to a deal with Duvel.
"There are a lot of options today. Ours were infinite: Buy, build or sell. We chewed on all of these and ran each scenario through the mill," he wrote.
For Firestone, the addition of a partner like Duvel could mean that expansion projects will move forward sooner than expected.
"This is really about trying to accelerate the investment in Paso Robles and accelerating growth," said Thorpe. "There will be significant investment in Paso Robles to build out capacity there and we will also be accelerating our expansion of Kansas City. You'd hope that we can produce beer for them in Kansas City and visa versa in Paso Robles."
But beyond shared brewing capabilities, there are few synergies, Thorpe said.
"We are not looking at synergies," he said. "This is about getting together and enabling Firestone Walker to handle their capacity and growth explosion. For the next few years, we are not interested in trying to drive synergies at all. We want to enable growth and remove some of the barriers and restrictions that exists in fulfilling potential for both companies."
"Their primary role is to help fund and engineer the next phase of our Brewhouse and Barrel expansion," Walker added. "We haven't looked beyond that…seriously."
Firestone Walker will continue to operate independently in Paso Robles under its current leadership of David Walker and Adam Firestone, the company said in the statement.
In a note sent to its distributor partners, Duvel Moortgat said there is no current plan to adjust the two companies' respective wholesale networks.
"While there is some overlap in our distribution partnerships, the Firestone Walker sales team will remain separate from the Duvel USA organization and we have no intention of changing our respective wholesaler networks in the foreseeable future," Thorpe said in the note.