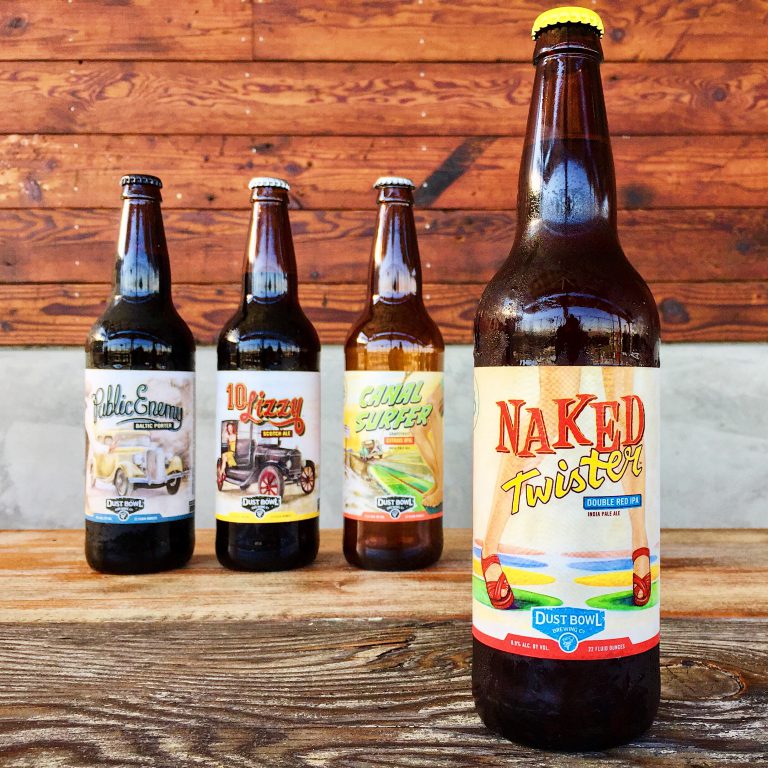 Turlock, CA — This week Dust Bowl Brewing Co. completed the rollout of its Vintage Series with the release of Naked Twister Double Red IPA (8.9% ABV/80 IBU). The latest addition to the growing brewery's portfolio, Naked Twister features a multitude of hops and a healthy dose of British and German specialty malts, which create a big, red, hoppy Imperial Red IPA. Juicy hop aromas and flavors of citrus and tropical fruit are balanced by a medium dry sweetness just enough to round out the assertive bitter finish.
The Vintage Series is comprised of four limited production brews packaged in 22oz. bottles. The branding on the series showcases water color iterations of clever names that (mostly) play into the Company's Great Depression era roots. Others in the series include Canal Surfer Grapefruit IPA, 10 Lizzy Scotch Ale and Public Enemy Baltic Porter.
"We're excited to release Naked Twister. It's a great Double Red IPA that enhances our offering to both distributors and the discerning craft beer drinker," shares Brett Tate, founder/owner, Dust Bowl Brewing Co. "It completes the launch of our limited release Vintage Series, which we started rolling out about a year ago. As we continue to grow and take a more strategic approach to our production and branding, it's satisfying to see this come to fruition. The name and branding are really catchy, which has become essential in the competitive craft beer industry."
To celebrate the launch, local fans are being treated to a release event at Dust Bowl Brewing Co.'s new Brewery Taproom on March 11 from 11:00 am – 5:00 pm. Guests will have the rare opportunity to hang with the brew crew and be the first to purchase Naked Twister at a discounted price of $6/bottle through March 12.
Dust Bowl Brewing Co. is distributed by the following: Delta Sierra Beverage covers the California Central Valley, Mussetter Distributing handles the Sacramento region, Delta Pacific covers the Fresno region, Morris Distributing handles San Francisco and the North Bay, Bay Area Distributing services Contra Costa and Alameda counties, Premium Beverage Company services Santa Cruz, Monterey and San Benito counties, Pipeline Distribution reaches Kern and San Luis Obispo and Barone Distribution covers the state of Nevada. Current expansion plans include further south down the Central Coast, Southern California and into the Pacific Northwest.
Dust Bowl Brewing Company produced its first beer in May 2009. The Company forecasts 15,000-20,000 barrels annual production. Dust Bowl Brewing Company beers are available in 5 and 15.5 gallon kegs along with selected styles in 22oz. and 12oz. bottles. Distribution includes Central and Northern California, Nevada and Vermont. The craft brewery showcases a wide variety of its beers at its two Turlock, Calif. taproom locations, Brewery Taproom and Downtown Taproom. More information may be found at www.dustbowlbrewing.com.