Don't blink, or else you'll miss the barrage of distribution announcements that small brewers made this week:
With construction on the expansion of Bell's Brewery expected to begin next month, the company is already planning to grow its footprint. The Michigan brewery's president, Larry Bell, told Brewbound.com today that brewery representatives are currently conducting wholesaler interviews in New York and product could be available as early as this fall — Upstate, that is.
"We plan to first send beer throughout the state before we enter New York City itself," Bell said. "Learning the state laws, getting to know people and defining our logistics are important before we start doing business in an expensive city. I want to have energy going in the state before we tackle NYC."
Los Angeles-based Fireman's Brew is also planning to hit New York City. The contract-brewed brand, which makes its product at Mendocino Brewing Company in Ukiah, Calif., sent a shipment of beer to the Empire State last week. It also recently entered Rhode Island through Johnson Brothers Liquor Company, a wholesaler with branches in 17 states.
Just a few hours south of Fireman's Brew's headquarters, San Diego startup Modern Times Beer will launch with Stone Distributing in Southern California on June 24. The move comes as no surprise, as Modern Times' founder Jacob Mckean is a former communications specialist for Stone Brewing.
Another San Diego-based craft brewery, Ballast Point, is also expanding its distribution footprint into Washington, Oregon, Idaho and Colorado. The company has signed with Columbia Distributing in Oregon and Washington and Idaho Distributing — a division of C. Stein Beverage Group — in Idaho. It will also re-enter the Colorado market, which it exited in 2009, later this month. There, the company has signed with Elite Brands, a Denver-based specialty wholesaler.
And while Ballast Point is busy re-launching in Colorado, Epic Brewing — which announced a second brewery expansion project in Denver earlier this year — will broaden its existing reach in Arizona by signing with three new wholesalers. The three-year-old company has inked agreements with Crescent Crown Distributing, Nackard Beverage Company and Finely Distributing. Epic Brewing beers are now available in 15 states.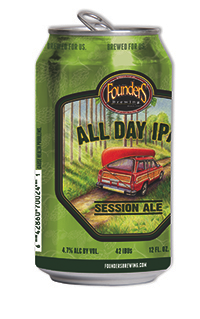 Meanwhile, craft enthusiasts in Florida will have to wait a little longer before they're able to quaff Founders Brewing's All Day IPA. Due to insufficient inventory levels and capacity constraints, the Michigan-based brewery has decided to delay its planned July launch in the Sunshine State.
"It's important for us to maintain a focus on our core brands in our current markets; as such, we must make some difficult decisions," someone from Founders wrote on the company blog. "Please know that these difficult moves affect many parts of our business but should be done for both short- and long-term success. Until we have built up core brand inventories in all markets again and are comfortable in meeting existing demand, these opportunities must wait a bit longer."
In the meantime, Floridians will be encouraged to learn that Sarasota-based JDub's Brewing Company has signed with J.J. Taylor Distributing and will launch kegs and cans later this fall.
Finally, Houston-based Karbach Brewing Company — which was recently recognized as one of the fastest growing craft brands in the country by the New Yorker — has signed with Del Papa Distributing in Southeast Texas. The company's full lineup of beers will be made available throughout Del Papa's 17-county territory.
Okay, feel free to blink.