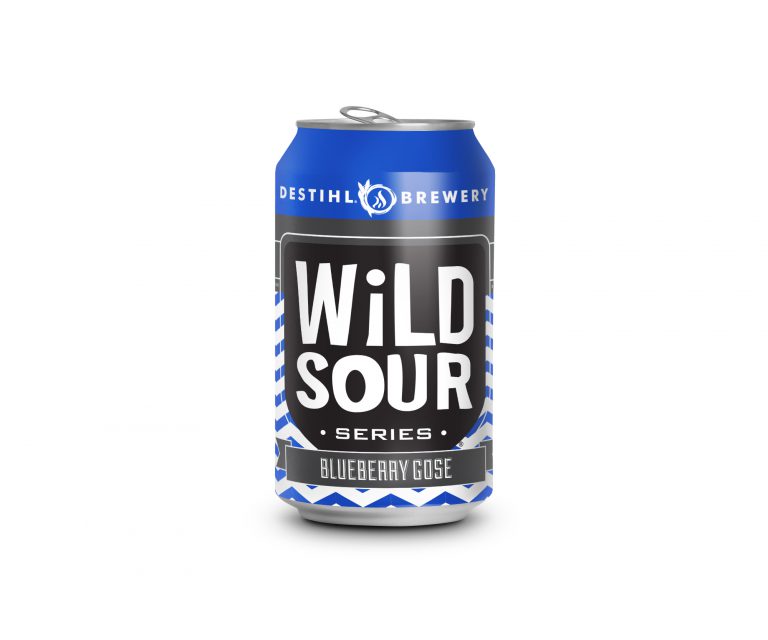 Normal, IL – DESTIHlL Brewery has announced today that it is set to release a seasonal edition of their highly celebrated WiLD Sour Series in the form of Blueberry Gose, a kettle soured Leipzig-style Gose with blueberries.
DESTIHL's highly revered WiLD Sour Series is kettle soured utilizing the brewery's own culture of wild microflora originally harvested from the air in Central Illinois. This leads to truly unique and authentic sour, tart, fruity and floral characteristics in their WiLD Sour Series beers.
Blueberry Gose is the second of four seasonal releases in 2017 as part of the WiLD Sour Series. The seasonal releases were kicked off in January with DESTIHL's award-winning WiLD Sour Series: Flanders Red.
In addition to the WiLD Sour Series seasonal releases, DESTIHL has two mainstay offerings in the series including Here Gose Nothin'®, a Leipzig-style Gose, and Synchopathic™, a dry-hopped sour ale.
The highly-anticipated Blueberry Gose will be released in draft and 4-pack 12oz cans through its distribution partners in 19 states plus Washington DC in May. Blueberry Gose will also be available on tap and in cans at both DESTIHL Restaurant & Brew Works locations in Normal, IL and Champaign, IL as well as at the brewery's new $14 Million production facility and Beer Hall, set to open on May 27th in Normal, IL.
"We've really made a name for ourselves when it comes to sour beers, and that's something that we've taken to heart and are very proud of and humbled by," said Founder, CEO and Brewmaster, Matt Potts. "Blueberry Gose, and the WiLD Sour Series as a whole, just speaks to our focus on sour beers in general for years, including not only kettle sours within the WiLD Sour Series since 2013 but also our original barrel-aged Saint Dekkera® Reserve Sour Ales that started it all in 2008. With Blueberry Gose, we're taking a beer style that's already known for its tart and salty characteristics and throwing in another layer of complexity in the form of blueberries, adding not only color but more layers of aromatics and sweetness. Altogether, we're really trying to introduce people to sour beers through our more approachable interpretations of these styles."
DESTIHL will reveal the next two 2017 seasonal releases in the WiLD Sour Series later this year.
About DESTIHL Brewery:
DESTIHL opened its first gastrobrewpub™ (DESTIHL Restaurant & Brew Works) in Normal, Illinois, in November 2007 and added its second gastrobrewpub in downtown Champaign, Illinois, in April 2011, where the company focuses on both artisan food and beers. The company's original production brewery in Bloomington, IL commenced operations on May 31, 2013, but production was moved to its new facility in Normal, IL in March 2017. DESTIHL Brewery combines centuries-old, global brewing traditions and new American craft brewing ingenuity & artisanship to produce a wide array of beers for every palate. The result is a diverse offering of intensely flavorful beers that are anything but bland. The brewery currently distributes its beers in Arizona, Arkansas, Colorado, Florida, Illinois, Indiana, Iowa, Louisiana, Michigan, Minnesota, Missouri, Nebraska, North Carolina, Ohio, Oklahoma, Pennsylvania, Tennessee, Texas and Wisconsin with availability in Washington, D.C. as well.