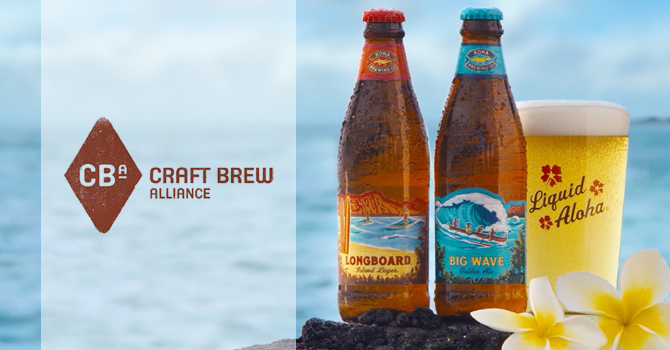 The continued acceleration of Kona beer sales during the third quarter couldn't offset company-wide shipment and depletion declines of other Craft Brew Alliance (CBA) offerings, the Portland, Oregon-headquartered company reported today.
In Q3, Kona depletions increased 9 percent as the brand grew in both off- and on-premise channels. The depletion growth followed increases of 7 percent and 3 percent in the second and first quarters of the year, respectively.
However, portfolio-wide sales of CBA products declined 6.6 percent in the third quarter due to lower shipment volume. The company's shipments declined 5.8 percent, while depletions dipped 1 percent for the quarter ending September 30.
Nevertheless, Andy Thomas, CEO of CBA, told investors and analysts that three themes emerged in Q3: control, confidence and energy.
According to Thomas, the company delivered in line with its expectations without "significant surprises" like in prior years. He pointed to Kona's acceleration, year-to-date shipment increases and beer revenue and gross margin growth.
The improved performance and "stronger financial foundation" is giving the company confidence to be more assertive in investing behind "more significant sustainable growth," he added. Consumer research has also taught the company that Kona "responds very well to increased spend," which will lead to additional investments in 2019.
Thomas concluded that the company is energized with "the most palpable sense ever that because of what we've done, tomorrow will be even better than today."
Much of that energy is coming from Kona flagship Big Wave Golden Ale, which grew overall depletions 30 percent in Q3 and nearly 40 percent in on-premise channels. The brand is driving much of the total growth for the Kona franchise, something CBA credited to the Anheuser-Busch wholesaler network's embrace of the brand, as well as marketing efforts in several key markets, including Florida, where depletions are up 44 percent year-to-date.
"Kona continues to consistently outperform the craft segment and the beer category and speaks to the brand's appeal," CBA chief marketing officer Ken Kunze said.
That appeal is reaching internationally as well, where Kona shipments are up 17 percent year-to-date. CBA is stoking its international growth in Brazil, starting in Rio de Janeiro, after an 18-month e-commerce pilot program with Ambev. The company plans to increase its marketing spend in the country and begin local production of Kona offerings.
Year-to-date net sales of CBA products improved "slightly" to $162.2 million, the company said. Through the first nine months of 2018, the company's shipments were up 0.2 percent (587,000), while depletions were down 2 percent, mostly due to continued deceleration of the Widmer Brothers and Redhook brands, Kunze said. In fact, Widmer's trends "softened" in Q3 as brand investments "did not have the same or desired similarly positive impact as in Q2," he added.
"We are aggressively working with chain retail to better achieve suggested price to consumers that are more reflective of the value consumers derive as we move into Q4, but it remains an ongoing challenge," Kunze said.
Depletions for other CBA brands — Omission Beer, and recent acquisitions Appalachian Mountain Brewery, Cisco Brewers, and Wynwood Brewing Co. — are up over 2017 levels.
Looking ahead to 2019, Thomas offered a teaser of CBA's strategy, which will remain "rooted in Kona Plus." However, he said there are "plans for a significantly accelerated topline driven by" Kona along with "the greatest spend ever on the brand." The company will also emphasize its newly acquired brands, as well as Omission, while maintaining focus on its traditional beer portfolio.
CBA chief operating officer Scott Mennen noted that several offerings born out of CBA's innovation effort, the pH Experiment, will be released in 2019, including a brut IPA, hazy IPAs, cocktail-inspired beers and an IPA made from hemp seeds that do not contain CBD. The company is also experimenting with spritzers, read-to-drink cocktails, kombucha, and no- and low-alcohol beers.
As for cannabis, Thomas said the company's recent research efforts have proven that the drug is having an impact on the beer market.
"As to involvement and interaction, to me it's a black-and-white case now," he said. "There is interaction."
Nevertheless, Thomas said the publicly traded company would be "negligent" to actively pursue commercializing products that are not yet federally legal.
"Regardless what our own individual views are, regardless of what consumers are telling us, those are the rules of the game right now," he said.
According to Thomas, 2019 will also provide "more clarity" on CBA's relationship with Anheuser-Busch InBev, "irrespective of the obvious unknown surrounding the qualified offer, rooted in the security of long-term wholesaler alignment, tighter commercial cooperation, a growing and mutually beneficial brewing relationship across both of our brewery networks, and upside for tangible efforts towards international development."
Asked about the status of the qualified offer following the signed consent degree for A-B's merger with SABMiller, Thomas said he's pleased CBA's relationship with A-B.
"If you look at the long-term initiatives that we've got in place, be it the continued commercial alignment on Kona, the continued movement to brew more beer together and the movement to start locally producing ifn foreign countries and international markets, it says that both companies really believe there is a future for us to work together," he said. "Whether that is as partners or a merged company after a qualified offer is made, I don't have the answer to that yet."
Thomas also provided an update on the company's search for a new CFO. He said CBA is being "deliberate" in order to make sure the next CFO has "not only the right skill set, but the right cultural fit."
"While we don't yet have a final candidate, we are encouraged by our choices," he said.