What a week for craft dealmaking.
Yesterday, Lagunitas Brewing announced a string of investments into three smaller breweries that are intended to help the country's sixth largest craft outfit "expand" the way it participates in local markets.
The Petaluma-headquartered craft beer company will buy stakes in two breweries: Moonlight Brewing Co., which is located in nearby Santa Rosa, Calif., and Independence Brewing Co. in Austin, Texas. The company is also "under contract" with Southend Brewery and Smokehouse in Charleston, S.C., which it plans to "convert into a new Lagunitas Taproom and Beer Sanctuary."
Lagunitas did not disclose the specific financial terms of each transaction, and each of the investments will be held under a new umbrella company, "Lagunitas U.S. Holdings (LUSH)."
According to the Santa Rosa Press Democrat, Lagunitas acquired a 50 percent in Moonlight Brewing and a majority stake in Southend Brewery.
The transactions are separate from Lagunitas' own joint venture with Heineken International, the world's third largest beer company that last September acquired a 50 percent stake in the fast-growing U.S. beermaker for a reported $500 million.
The deal with Independence Brewing will enable the Texas beermaker to expand capacity and simultaneously give Lagunitas a chance to "directly engage with the community of Austin and the Lone Star State," founder Tony Magee told the Chicago Tribune.
In addition to purchasing stakes in the three breweries, Lagunitas said it also plans to open non-profit outposts in two important craft beer markets: Portland, Ore., and San Diego, Calif.
Called community rooms, the locations are 100 percent dedicated to "supporting non-profits with their fundraising efforts." At both sites, Lagunitas will donate the space to any bona fide non-profit organization, fully staff the venue, bring in live musical acts and provide free beer, enabling the agencies to "focus on raising the funds they need to carry out their respective missions."
In his interview with the Chicago Tribune, Magee said the moves were aimed at giving the company a more hyperlocal edge.
"There will always be room for a number of brands to be national — with Lagunitas, that's what we're aiming for, as well as what we're pursuing with being international — but as a way to become more local, some breweries are building remote brewpubs," he told the outlet, noting that A-B is pursuing a similar strategy with its 10 Barrel and Goose Island taprooms.
But instead of trying to enter competitive markets like Portland and San Diego with Lagunitas-branded taprooms, the company opted for what it hopes will be more accepted by local drinkers and retailers: community spaces that "won't even have liquor licenses at them."
"It's a big expense and there's the risk of not being in the right neighborhood, and the question of whether retailers will rebel because you're invading their territory," Magee told the Tribune.
Magee said the company plans to rent the space and make it available 250 – 300 days per year. He also hinted at the possibility of more transactions in a Tumblr post.
Krebs Acquires Prairie Labels
Oklahoma's Krebs Brewing Company — which produces the Choc Beer line of products — has purchased Tulsa-based Prairie Artisan Ales, a small but well-known craft label amongst beer aficionados.
It's far less-publicized deal that actually occurred last year, according to a blog posted on the Prairie website by Krebs Brewing president Zach Prichard.
Krebs was already serving as the contract partner for the Prairie offerings, so production of the Prairie's popular brands like Bomb!, Prairie Hop and Puncheon will remain at the Choc Beer Co. facility in Krebs, OK.
"Since I already felt like the beers were a partnership it only made sense," Prichard said of the acquisition.
Prairie brewmaster and co-founder Chase Healey will reportedly have "some involvement" in the brand going forward, according to a report from the Tulsa World newspaper.
"It is a humbling move that shows Chase continues to trust us to innovate, make great beer, and share Prairie across the globe," Prichard wrote on the blog, adding that his company plans to create new beers and add new locations in the coming months and year.
Prairie Artisan Ales produced 2,500 barrels in 2015, according to Brewers Association records. Choc Beer Co. produced an estimated 8,000 barrels last year, according to the BA. It's unclear if that total also includes Prairie's production.
Odin Brewing Purchases Hilliard's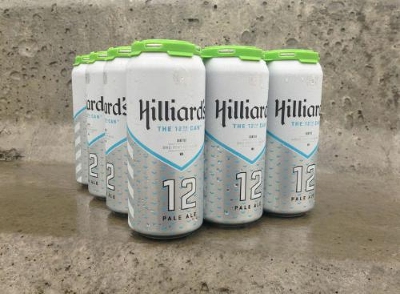 Another small deal in the Pacific Northwest will see the intellectual property and select brewing assets of Seattle-based Hilliard's Beer LLC. transferred to the smaller Odin Brewing Company in Tukwila, Wash.
Official terms were not disclosed.
As part of the agreement, Odin Brewing — which made just 3,000 barrels last year, according to BA records — will acquire the Hilliard's brands and "move certain tanks and equipment" to its new brewery and taproom in Tukwila, the company wrote in a press statement.
Ryan Hilliard, who founded his namesake beer company in 2011 and scaled production from just over 100 barrels to more than 4,700 last year, said he would exit the business and pursue other opportunities outside of the beer industry.
"I think the deal reached with Odin Brewing was a good one" he said via the release. "It's not often that deals like this come along, and when they do you have to be ready to move on them. I have enjoyed my time in the craft beer sector and am thrilled my namesake beer will live on in good hands."
In the release, Odin Brewing's Wes Peterson said the Hilliard's brewery and taproom location in Seattle would be sold as a "turnkey opportunity" for a new or current craft brewery.
"For the time being we will not be entertaining a piecemeal sale of the assets" he said. "We are looking to see if there is an interested party ready to step up and acquire the Hilliard's facility as-is."