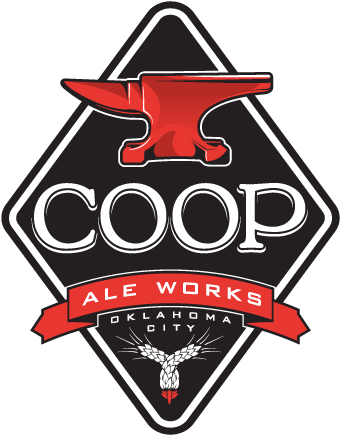 OKLAHOMA CITY — COOP Ale Works of Oklahoma City has announced an exclusive, statewide distribution partnership with Republic National Distributing Co.
Beginning in September, RNDC will distribute packaged and draft versions of all COOP core beer as well as seasonal and specialty beers. The portfolio includes F5 IPA, Native Amber Red IPA, Elevator Wheat, DNR Belgian Strong Ale, Horny Toad Blonde, Saturday Siren Dry-Hopped Pilsner, four seasonal releases, the Territorial Reserve series, the DNR Cask-It series, the Id series and other special releases.
"In the nine-plus years COOP has been selling in our home market, we have become familiar with leadership and several staffers at RNDC. Their reputation and service level in the local market as well as their substantial corporate infrastructure were among the most attractive features of this potential partnership," says Sean Mossman, Sales & Marketing Director for COOP Ale Works. "Over the past several years, we've been fortunate enough to continue our substantial growth. We are excited by the prospect of RNDC partnering with us to continue that trajectory."
"RNDC has been driving a craft beverage alcohol strategy for over eight years. The partnership with COOP was an ideal fit with their strategy to offer products that represent the spirit of the states where RNDC conducts business," said RNDC Oklahoma Executive Daniel Zeigler. "The Local Craft segment is the fastest-growing category in the beer industry and COOP is the largest craft beer brand in the state of Oklahoma.
"We here at RNDC are proud that COOP has chosen us as their long-term partner and has recognized the efforts and investment RNDC has made to establish our business model to be a leader in the wine, spirits and craft beer segments in Oklahoma.
"As the modernization of beverage alcohol laws go into effect on October 1, 2018, RNDC is excited to be at the forefront of the growing craft beer sector."
About COOP Ale Works
COOP Ale Works was founded in 2009 as one of the first local craft breweries in Oklahoma. Bolstered by the success of the brewery's flagship F5 IPA, COOP has grown to more than 14,000 barrels of annual production. COOP brews nine brands year-round, including Native Amber, DNR and Horny Toad Blonde, as well as several seasonal and limited releases. COOP has distribution in Oklahoma, Texas, Arkansas, Kansas, Missouri and Nebraska.
About Republic National Distributing Co.
RNDC is the second largest distributor of premium wine and spirits in the United States with operations in Alabama, Arizona, Colorado, District of Columbia, Florida, Indiana, Kentucky, Louisiana, Maryland, Michigan, Mississippi, Nebraska, North Carolina, North Dakota, Ohio, Oklahoma, South Carolina, South Dakota, Texas, Virginia and West Virginia. RNDC employs more than 9,000 individuals nationwide. For more information about RNDC, visit www.rndc-usa.com.