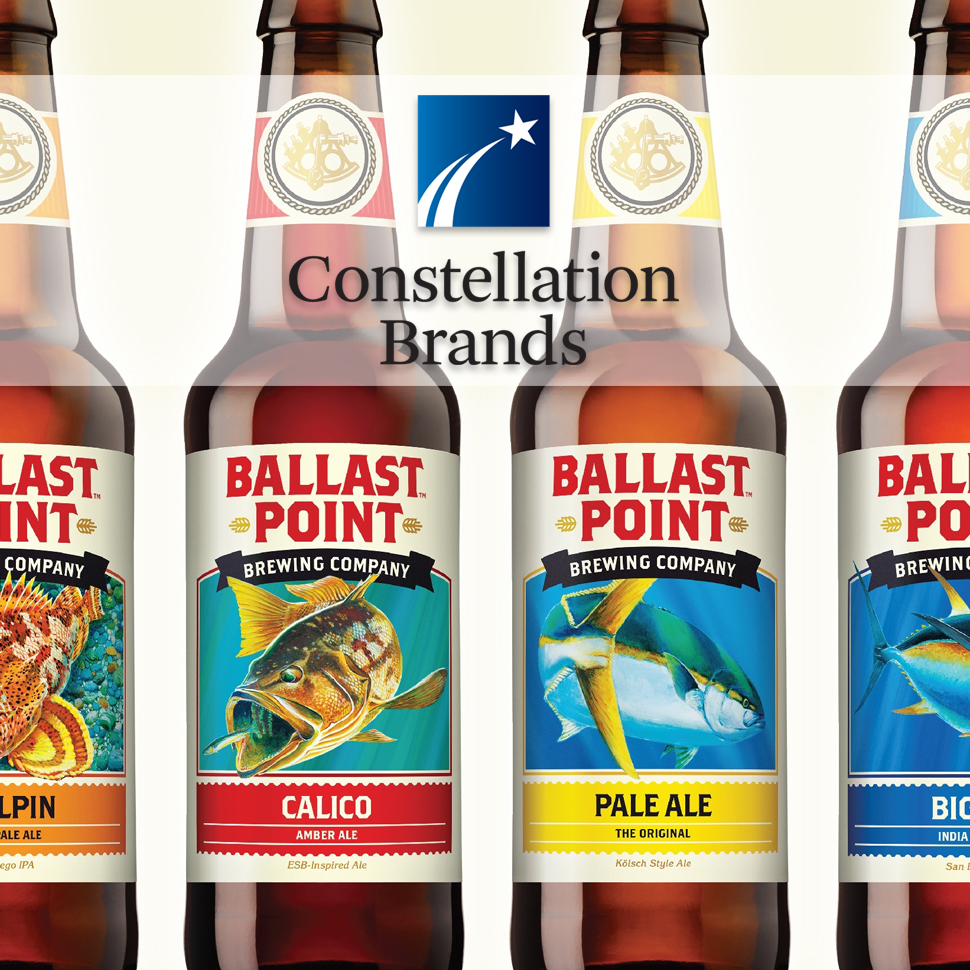 Behind last year's $1 billion bet on Ballast Point, Constellation Brands Inc.'s big foray into the craft beer marketplace is beginning to pay off.
During its second quarter earnings call today, the erstwhile wine and spirits house boasted 20 percent net sales growth. Constellation executives credited much larger-than-expected growth to Ballast Point and import brands Modelo and Corona, which the company acquired in 2013.
Constellation president and chief executive officer Rob Sands opened Wednesday's investor call saying beer was the big driver, and that Constellation's brands are "significantly outperforming the U.S. beer market and our own expectations." He touted Constellation's beer brands as contributing "60 percent of the total U.S. beer industry IRI dollar growth."
"We remain the No. 1 share gainer in the high-end segment of the U.S. beer market with double-digit depletion growth of almost 14 percent for the second quarter," he said.
The beer portfolio's growth means that Constellation has adjusted its earnings forecasts as well: David Klein, Constellation's executive vice president and chief financial officer, said the company was expecting net sales growth of 16 to 17 percent, up from the previous 12 to 13 percent for the year.
Purchased last fall, Ballast Point is now "the fastest growing major craft brand in the U.S." Sands said, and cited "solid, high double-digit depletion growth during the quarter."
Klein added that Ballast Point's 43-state (and the District of Columbia) reach will expand by the end of the year. Sands added that he expects growth to be bolstered by the buildout of a satellite brewery in Virginia.
Since the takeover, management changes have begun to take hold at Ballast Point; Sands disputed the notion that there has been a decrease in craft knowledge, however.
"I think that that team certainly had some knowledge and some credentials, but I don't think they have anywhere near the level of sophistication and knowledge that the team that we supplanted them with has," he said during the call's question-and-answer period.
Sands touted new CEO Marty Birkel, a Constellation veteran.
"He brings a level of knowledge and expertise in growing brands and wholesale and distributor relations and sales execution that far exceeds what the previous management team had," he said.
Sands said the management changes bring "a degree of professionalism that I don't think the old management team could bring."
"I don't think we're going to see anything lost there," he continued. "We're very optimistic and very pleased with the changes we've made."
In the import market, Corona Extra and Modelo Especial "held category-leading positions as the No. 3 and No. 2 overall brand share gainers," Sands said. He called Modelo Especial "the fastest growing major beer in America and the No. 2 imported beer in the U.S." Meanwhile, Negra Modelo will be receiving a packaging makeover.
As for Pacifico, Sands pointed to recently launched 24 oz. single-serve cans as "gaining traction as the No. 1 new item nationally in IRI channels."
"Our Pacifico marketing investments are obviously paying off as this brand grew depletions more than 20 percent for the quarter," Sands said.
Sands offered a glimpse of what the beer and beer-related future may entail for Constellation, noting that it is exploring the flavored malt beverage sector.
"That's clearly a subcategory that we'll be looking at in terms of developing our portfolio for the future," he said.
Constellation will also look at draft formats to grow Modelo. For Corona, a growing focus will be on the can business — just six percent of the brand's sales, but one with depletions up in high teens for the quarter, Sands said.
Meanwhile, Constellation isn't done shopping: on Wednesday it also announced an agreement to buy Utah-based High West Distillery for about $160 million.
Wall Street liked what it saw Wednesday, with Constellation, which trades as STZ on the New York Stock Exchange, closing the day up $2.75 a share at $168.60.