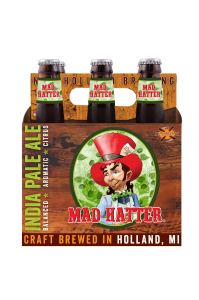 John F. Kennedy once said, "Change is the law of life. And those who look only to the past or the present are certain to miss the future."
The established craft breweries of the 90s face this dilemma on a daily basis. With new breweries entering the space every day and consumer preferences changing faster than a rotating draft line, older beer companies that aren't evolving risk losing the interest of today's promiscuous craft drinker.
Thus change has come to Michigan's New Holland Brewing and after 18 years, the company is making some dramatic alterations to the its flagship IPA and its overall go-to-market strategies.
In an effort to appeal to a larger set of craft consumers with broader palates, New Holland today announced a number of modifications to its Mad Hatter IPA. The new recipe calls for the addition of Michigan-grown Cascade hops, Citra hops and an adjusted grain bill that will increase the alcohol by volume from 5.25 percent ABV to 7 percent ABV.
"The craft landscape and the craft drinker have both changed quite a bit since our early days," vice president Fred Bueltmann said in a release. "Our team is inspired by the change we've been witness to, and we're excited to offer a fresh, dynamic interpretation that integrates Michigan-grown hops as a true Midwest IPA."
The company has also refreshed the brand's look, calling greater attention to the words "India Pale Ale," and "craft brewed," on its new packaging.
But Mad Hatter's own metamorphosis underscores a number of key changes the Michigan craft brewery has made over the last five months, beginning last October with the hiring of former Dogfish Head vice president of sales, Adam Lambert.
Lambert officially took over as New Holland's own VP of Sales in December, and after just one quarter, his impact on the company's sales and marketing efforts was clear: Total sales were up 52 percent over Q1 2014.
And much like his days at Dogfish, Lambert immediately placed an emphasis on improving sales in New Holland's home markets and he even restructured the company's sales divisions to allow for increased brand ambassador support at the state level. The result? Sales in Michigan were up 33 percent through the first three months and now account for 46 percent of the company's total business. New Holland's Midwest division is growing at a 22 percent clip, accounting for 74 percent of total sales.
But was it all Lambert's magic touch?
"I think we were poised," he said. "I think there are a bunch of brands out there that have heritage and I think people are looking for heritage, story and a consumer connection. New Holland has had that for a long time but now were' just starting to reap the benefits."
Lambert chalks most of the growth up to improved "sales mechanics."
"We changed the way we are procuring orders, asking our distributors to order further out," he said. "Out of stocks can cripple a brewery. We are trying to be a more reliable source of revenue for our distributors and that means getting orders out the door in a fashion that is more orderly and has a rhythm."
Those aren't the only changes being made, however. The company also recently added new markets in Texas, signing with Andrews Distributing in Dallas, and Tennessee, signing with AS Barboro in Memphis. It also changed wholesalers in Traverse City, Mich., signing with H. Cox & Son after Wicksall Distributors was sold to Great Lakes Wine & Spirits.
Next week, New Holland will send its first shipment of beer to Sweden, its second international market (the company sold beer in Canada last year).
New Holland is also in the process of modifying its physical brewery layout as it looks to grow capacity to 100,000 barrels.
"We are moving the jigsaw around," Lambert said. "We are making some investments and restructuring the facility to maximize our space."
So what does Lambert and New Holland have in store for the remainder of 2015? In an effort to continue improving how the brand goes to market, Lambert has tapped retail consultant Bump Williams, who will help New Holland fine tune its chain strategy.
"I realized that we have some incredible chain business and we want to capitalize on it," he said.
To help support that business, the company plans on hiring additional sales reps in its most important markets. New Holland is currently sold in 27 markets and Washington D.C., a number that will also likely grow before the end of the year.
"We are looking at some additional markets," Lambert said. "I'd really like to get my foot in the door with some great partners and align with distributors what will grow with us as we grow."
New Holland is also building a new brewpub in Grand Rapids, Mich., which is scheduled to open in early 2016, and it recently hired Grey Matter Group, a design and marketing firm that is spearheading social media initiatives.