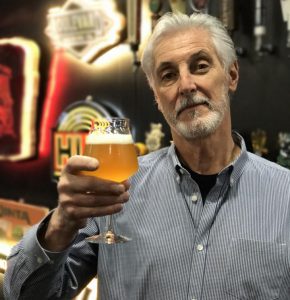 Cape May, NJ — Cape May Brewing Company, the Jersey Shore's premier local brewery, is pleased to announce the newest member of their staff. After a months-long search, Bill Zaninelli has been named their Director of Sales and Marketing.
"We were looking for someone with a wealth of experience in the beverage industry to add to our leadership team," says CMBC co-owner and president, Ryan Krill. "With Bill, we found our guy."
Zaninelli began his career in beer in merchandising for Crown Beer Distributors in the mid-80s, spending twelve years working his way up to General Sales Manager. He spent seven years with Beck's North America in Stamford, CT, starting as a New Jersey Regional Sales Manager and working his way to Senior Sales Manager, overseeing nine wholesalers.
After a stint with InBev USA, his career track branched into craft beer. With eight years at Long Trail Brewing and Otter Creek Brewery in Vermont — first as Market Director, then as Vice President of Sales — he opened them to the PA-DE-MD-VA market and eventually opened Long Trail distribution in Ohio, growing the brand and expanding sales.
"There's a lot of opportunity for Cape May," Zaninelli says.
"I am very impressed with the operation down there," he says. "The owners have a strong vision, the brewery is spotlessly clean, and they have their ducks in a row. They've got a very good brewer in Director of Brewing Operations Jimmy Valm — he's classically-trained and knows his stuff. The graphics are great. The story is good. The marketing is solid.
"I'm really enthusiastic about the opportunity and looking forward to the challenge."
Originally from Somerville, NJ, Zaninelli has been in Point Pleasant for 33 years with his wife, Mara, a kindergarten teacher, with whom he celebrated a 37th wedding anniversary on Wednesday. They have two children, Faye, a third-grade teacher, and Rusty, who worked this past winter with the US World Cup snowboard team in Europe and is running a surf shop on the Asbury Park boardwalk this summer.
Zaninelli is looking forward to time spent in Cape May. "It's beautiful," he says. "It seems a little more laid back than Point Pleasant. It's wide open, and the Victorian homes are beautiful. The beaches are nice: the sand is like powder."
After researching CMBC's brands, Zaninelli became an instant fan, with their flagship Double IPA Coastal Evacuation being one of his favorites. He's looking forward to sampling their flagship Cape May IPA on Nitro.
"What I've tried, I've been impressed with," he says, "and I've been drinking pretty good beer for awhile. If you're gonna drink beer, you might as well drink good beer."
CMBC's owners expect that Zaninelli will be able to lead them in the right direction as they continue to expand.
"With the company growing as fast as it's been over the past few years, I've needed someone to come aboard to handle the sales and marketing arm," says Krill. "With Bill leading that effort, I'll have more time to focus on the big picture of running the brewery."
Zaninelli started in his position on Tuesday, April 11th, accompanying Krill at the Craft Brewers Conference in Washington, DC. He starts at the brewery full time next Tuesday, after the Easter break.
For more information on Cape May Brewing Company, including for tours and tastings, see capemaybrewery.com or call (609) 849-9933.
About Cape May Brewing Company:
Once upon a time, 20-something Ryan Krill earned a six-figure salary working in finance and real estate development in Manhattan, while his college roommate, Chris Henke, designed commercial satellites. During a summer weekend at the Jersey shore, they brewed a batch of beer with Ryan's dad. "Should we open a brewery?" Ryan asked, only half-serious. But, by the following year, the three guys had secured a space at Cape May Airport where they concocted a makeshift brew system and honed their beer-making skills. In 2011, they started with one client. Today, there are hundreds of accounts in Jersey and Pennsylvania proudly serving the guys' award-winning recipes. And CMBC's fearless leaders have never looked back.