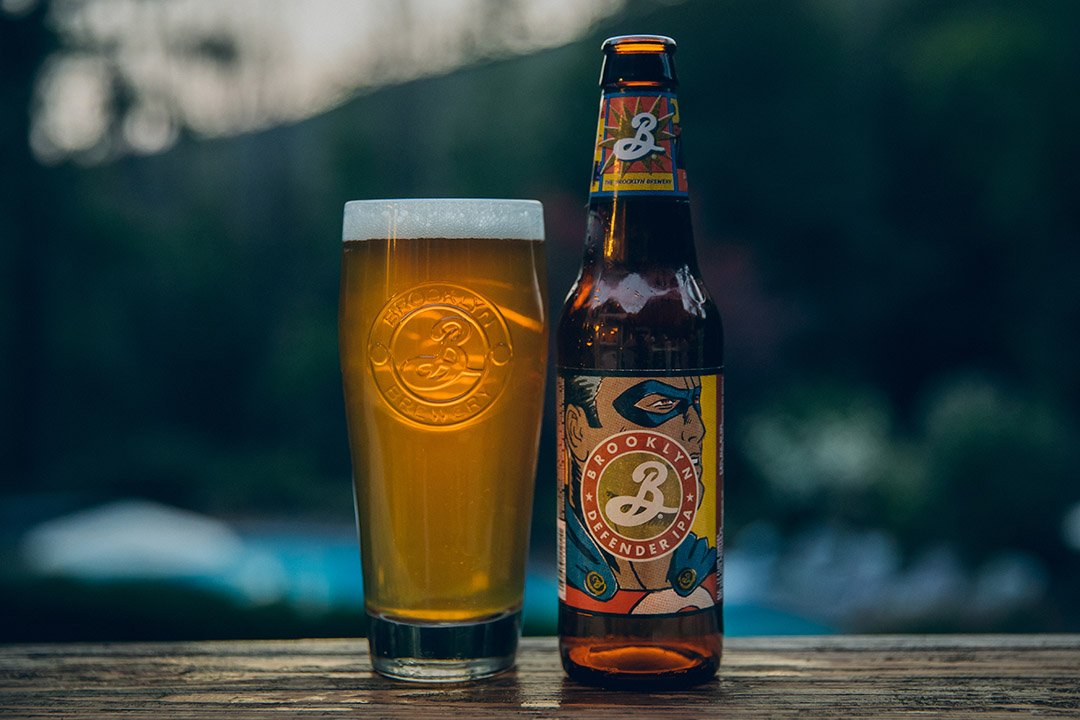 NORWALK, CT – ReedPOP, the world's leading producer of pop culture events, and Brooklyn Brewery, the 11th largest craft brewer in the US, today revealed the new Brooklyn Defender IPA, a heroically hopped golden IPA (5.9% ABV) and the Official Beer of New York Comic Con 2017. This marks the sixth year that Brooklyn Defender IPA will stand as the official beer of NYCC and continue the tradition of new beers for new heroes. Brooklyn Defender IPA is releasing this October with a new recipe, new packaging, and a new classically- inspired hero to rally behind. The beer will be available at NYCC and wherever Brooklyn Brewery beer is sold.
The new Defender IPA is a golden IPA packed with both old-school and fresh new hops alike. The beer features a mix of Cascade, Amarillo, Simcoe, and Mandarina hops that give off flavors of strawberry, melon, and citrus fruit upfront followed by resinous, piney, woody notes. This year's Brooklyn Defender IPA will be introduced at a release party at Brooklyn Brewery on Thursday, September 14 (RSVP here). The beer will be available in bottles and on tap where Brooklyn Brewery beer is sold, and for purchase during New York Comic Con, October 5-8 at the Javits Center.
DEFEND BEER is the belief that beer should be interesting, delicious, accessible, unpretentious, and downright fun. Brooklyn Defender IPA embodies all these things with plenty of hop intrigue for aficionados, smoothness for newcomers, packaging born of our own interests, and again, simple fun.
Brooklyn Brewery's Defender IPA is the first step in the craft beer brand's on-going packaging refresh by Doyle Partners.
"As a guy who collected comics all the way back to the glory days of Jack Kirby, working with New York Comic Con warms my geek heart," says Garrett Oliver, Brewmaster at Brooklyn Brewery. "The whole idea of 'Defend Beer' is to defend our right to have fun and our right to rampant individuality. Defender IPA represents all sorts of freedom, and besides that, it's ridiculously tasty too."
"We are thrilled to launch our sixth Brooklyn Defender beer this year with Brooklyn Brewery," said Lance Fensterman, Global Head of ReedPOP. "The Brooklyn Defender truly captures the spirit of New York Comic Con and we can't wait for our fans to taste the awesome new Golden IPA and check out the classic comic-inspired packaging."
The new Brooklyn Defender IPA will be revealed at the 2017 Defender release party at the Brooklyn Brewery on Thursday, September 14 from 8:00 PM – 11:00 PM. For more information and to RSVP, visit NewYorkComicCon.com/Defender.
New York Comic Con Thursday tickets are still available at visit NewYorkComicCon.com. For the latest news, visit NYCC's social media pages (Facebook, Twitter, and Instagram).
About ReedPOP:
ReedPOP is a boutique group within Reed Exhibitions exclusively devoted to organizing events, launching and acquiring new shows, and partnering with premium brands in the pop culture world. ReedPOP is dedicated to celebrations of popular culture throughout the globe that transcend ordinary events by providing unique access and dynamic personal experiences. The ReedPOP portfolio includes: New York Comic Con (NYCC), Chicago Comic & Entertainment Expo (C2E2), Penny Arcade Expo (PAX) West, East, South and Australia, Emerald City Comicon (ECCC), BookCon, Oz Comic-Con, Comic Con India, Paris Comic Con, Star Wars Celebration, Star Trek: Mission New York, TwitchCon, ComplexCon, UFC Fan Expo and more. The staff at ReedPOP is a fan-based group of professionals uniquely qualified to serve those with whom they share a common passion. ReedPOP is focused on bringing its expertise and knowledge to world communities in North America, South America, Europe, Asia, India and Australia. (www.reedpop.com).
ABOUT BROOKLYN BREWERY
Founded in 1988, The Brooklyn Brewery is one of the foremost craft breweries in the world, currently ranking #11 in volume among United States craft breweries. In pushing the boundaries of beer while keeping an eye on tradition, Brooklyn Brewery produces award-winning beers that are available in 26 states and more than 20 countries. The Brooklyn Brewery is located in the Williamsburg section of Brooklyn and has been a proud supporter of the arts, music and community efforts since its inception. brooklynbrewery.com.