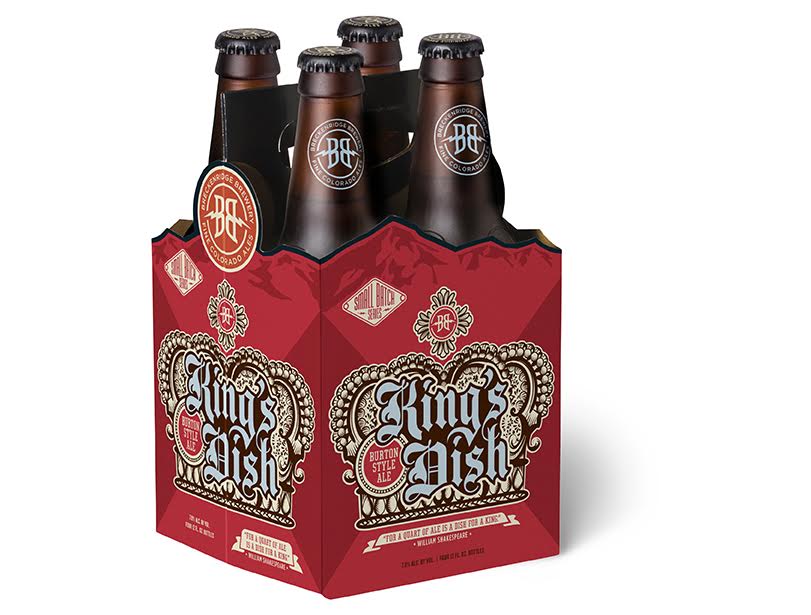 Littleton, CO – With a nod to England's rich history of beer-making and artistry, Breckenridge Brewery today released a Burton ale in its Small Batch Series. King's Dish derived its name from a well-known line in William Shakespeare's play, The Winter's Tale. Pairing British ingredients with Shakespeare's celebrated quote, "For a quart of ale is a dish for a king," King's Dish revives an age-old style that predates the India Pale Ale.
King's Dish is rich with English malts, balanced by hops, "and it has a respectable amount of alcohol," explains Todd Usry, President of Breckenridge Brewery. "We wanted to create something dark and well-malted but with plenty of hop character, too. We found the history of the Burton ale intriguing and thought others might enjoy checking out what the style has to offer."
King's Dish is the newest member of Breckenridge's Small Batch Series. The series showcases "beers with fortitude," that is, those that are big in flavor, on the stronger end of the ABV spectrum, and require extra time in the tanks. Due to the nature of small batch offerings, King's Dish is available in select markets. Packaged in 4-packs of 12-oz bottles, it will be on the shelves and also in draft for several months.
About Breckenridge Brewery
Breckenridge Brewery opened its doors in 1990 in the ski town of Breckenridge, Colorado. What started as a small brewpub has grown into a one of the largest breweries in the U.S. The original brewery still serves its craft beer and delicious pub fare at altitude. The production brewery outside of Denver sends beer to thirty-five states and offers tours, dining, and a welcoming Colorado beer garden experience. With a focus on balanced, approachable and interesting beer, the brewery's portfolio contains classics like Vanilla Porter, Avalanche Amber Ale, Agave Wheat, 471 Double IPA, and Breck IPA, along with a variety of specialty beers that include seasonals, barrel-aged beers, the Brewery Lane Series, and a newly announced nitrogen-charged canned series. Visit www.breckbrew.com for more information.