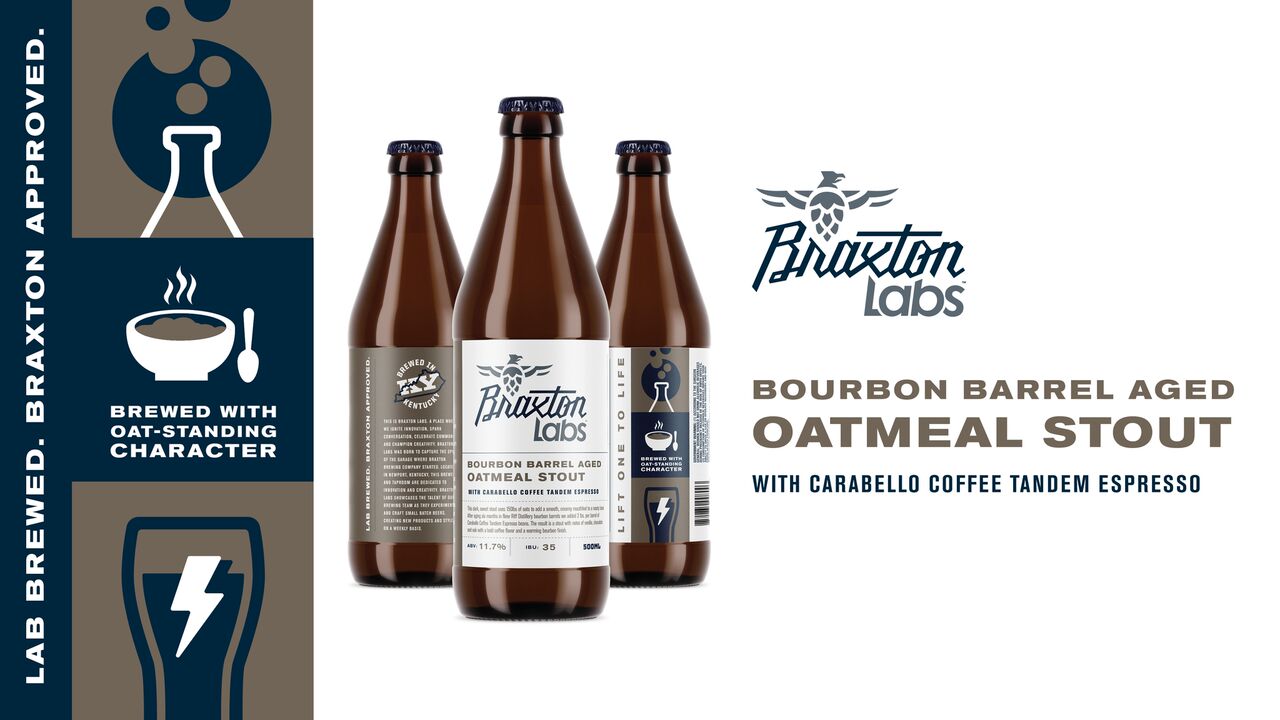 NEWPORT, Ky. — Dedicated to innovation, Braxton Labs is excited to release its first barrel-aged beer in bottles. On Saturday, January 20th, the brewery will release a Bourbon Barrel Aged Oatmeal Stout infused with Carabello Coffee Tandem Espresso. The 11.7% ABV beer will be available in 500ml bottles beginning at 11am.
"We are incredibly excited to release our first barrel aged project at Braxton Labs. The beer turned out fantastic and we couldn't be happier to use barrels and coffee from our friends in Newport," said Zac Boehnke, Lead Innovation Brewer at Braxton Brewing Company. "We plan to continue to release unique and flavorful barrel aged products – we are filling more and more barrels every month – and think that this barrel aged Oatmeal Stout with Coffee is going to get us off to a great start."
This project was intended to highlight the collaborative environment in our local Northern Kentucky community. The beer spent 6 months aging in freshly dumped New Riff OKI Bourbon barrels. New Riff is Braxton Labs neighbor in Newport, Kentucky. Opened in 2014, New Riff's story is a new take on the old, bringing new energy and influence to the Kentucky bourbon landscape.
After aging in the OKI Bourbon Barrels, the beer continued its local journey by being infused with 2 lbs per barrel of Carabello Coffee Tandem Espresso beans. The bold coffee flavor compliments the notes of vanilla, chocolate and oak. The Espresso beans were sourced and roasted by Carabello Coffee in Newport, Kentucky.
Perfect for the winter season, the bottles will be $7.99 for one bottle or $29.99 for four. In a very limited quantity, they'll be released this Saturday, January 20th at 11am in Braxton Labs' taproom.
"Our relationship with New Riff has been great from the start," said Evan Rouse, Chief Product Officer at Braxton Brewing Company. "Being such close neighbors allows us to utilize their freshly dumped barrels as fresh as possible. The bourbon and oak barrel characteristic shines through and mends really well with the base beer and coffee addition. We are really happy with how this came out."
To learn more about Braxton Labs, like the brewery and taproom on Facebook or follow them on Twitter. Follow Braxton Brewing Company on Instagram to see Labs highlights. Visit braxtonbrewing.com to learn more.