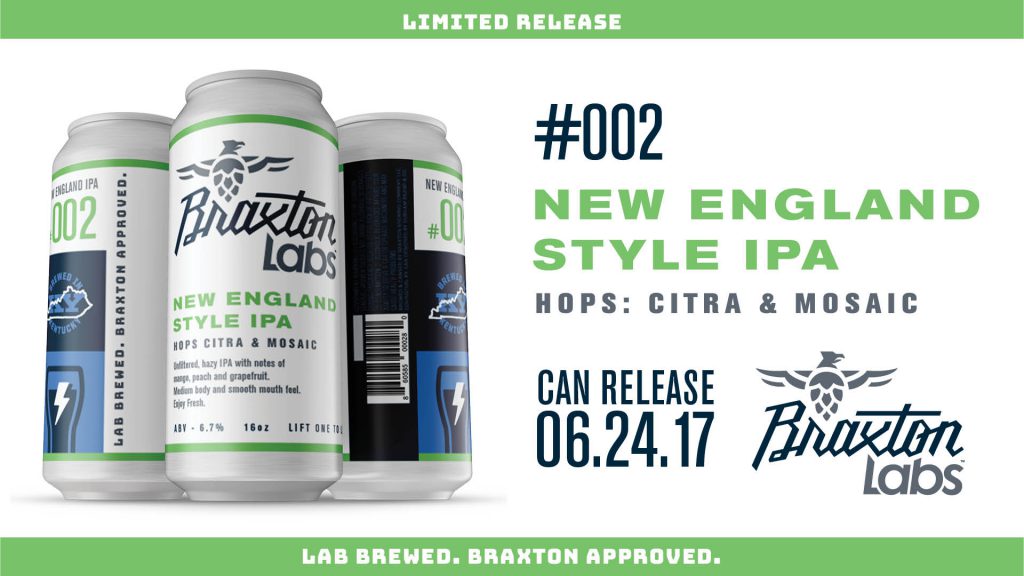 NEWPORT, KY — Braxton Labs will be releasing their first canned beer on Saturday, June 24th. The beer will be a new release and the company's second iteration of the popular New England Style IPA. New England IPA #002 was brewed with Citra and Mosaic hops for notes of mango, peach and grapefruit. This hazy IPA will be available in four packs of 16 oz. cans at $17 per four pack.
"The idea behind Braxton Labs is to push the envelope on new innovative styles and listen to what our customers really want," said Evan Rouse, Braxton Brewing Company COO. "New England IPAs are extremely popular right now, and our Lead Innovation Brewer, Zac Boehnke, and team truly knocked it our of the park with Braxton Labs' first New England IPA. I can assure you this version is just as good — if not better. We are excited to get these cans in your hands."
Braxton Labs is Braxton Brewing Company's second facility. It is a space dedicated to experimentation, creativity and community. The brewery and taproom located at 95 Riviera Dr., in Newport, Kentucky is in the space previously occupied by Ei8ht Ball Brewing. Braxton Labs taproom and brewery opened in May.
This will be the first packaged product offered exclusively by Braxton Labs. The release will begin at 11am on Saturday, June 24th. Each customer will be limited to four 4-packs per person while supplies last. The cans will not be distributed and Braxton Labs is expecting the beer to sell out.
Braxton Labs' first New England IPA quickly became its most popular beer selling out in less than two weeks. Given its popularity, the brewing team decided that they wanted to can a beer to get more beer in more customers' hands. The result is New England IPA #002 brewed with Citra and Mosaic.
"We're a little under a month into the Braxton Labs project and I couldn't be more thrilled to have a product we wanted to put in package so quickly," said Jake Rouse, Braxton Brewing Company CEO. "After listening to all the good things you had to say about the first batch, we wanted to package the second batch for sharing!"
To learn more about Braxton Labs, visit Braxton Brewing Company's website. Follow Braxton Labs on Facebook, Twitter, and Instagram to stay in-the-know.