Times are tough for the country's second-largest craft beer maker.
In its third-quarter earnings, released after the market closed on Thursday, Boston Beer Company reported 14 percent revenue declines and 12 percent shipment declines, compared to the same period last year.
Quarterly depletions also fell 8 percent and year-to-date depletions are down 6 percent.
Boston Beer attributed those declines to slower craft category growth trends and increasing competition from more than 4,600 U.S. craft breweries.
"Our total company depletion trends declined in the third quarter at a slightly faster rate as we lapped new beer launches from last year," Boston Beer founder and chairman Jim Koch said in a release, "and we saw a further slowdown in growth across the craft brewing industry."
Craft trends have slowed in 2016 and larger players, such as Boston Beer, have taken the biggest hit. Recent data from market research firm IRI Worldwide pegs year-to-date dollar sales at U.S. grocery stores up 7.6 percent. Craft dollar sales for the comparable period in 2015, however, were up 20.6 percent.
(Editor's note: IRI altered how it reports certain brands in 2016, shifting 12 brands — more than 12 million cases — away from the domestic super-premium category and into the craft segment. Any volume declines for those brands could have an affect the overall craft segment growth in 2016.)
Meanwhile, Boston Beer dollar sales are down 7.3 percent year-to-date, to about $243 million, according to IRI.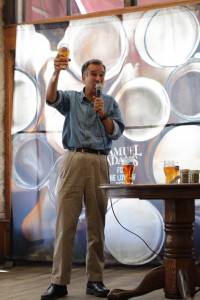 In an effort to curb the downward trends, Koch said the company has invested in "new packaging, new beers, a fifth seasonal and enhanced drinker communication."
One of those new product offerings — a tropical IPA called Samuel Adams Rebel Juiced, which the company debuted at a media event held in conjunction with this year's Great American Beer Festival in Denver — is expected to hit stores later this month. Samuel Adams is also adding two new seasonals: Hopscape, a wheat ale brewed with West Coast hops for January and February, and Fresh as Helles, a lager for February and March.
Boston Beer president and CEO Martin Roper noted in the earnings release that the declines in the flagship brands (Samuel Adams, Angry Orchard, Coney Island and Traveler) "were only partially offset by increases in our Twisted Tea and Truly Spiked & Sparkling brands."
"We are happy with our Truly Spiked & Sparkling category leadership position, and are investing to grow this emerging category," he said. "However, we were disappointed during the quarter by cider category trends, and believe we have opportunities to increase visibility and disruption at retail for our cider packages."
According to IRI, Angry Orchard Crisp Apple dollar sales are down 14.7 percent, Samuel Adams' seasonal SKU is down 15.6 percent and Boston Lager is down 7 percent year-to-date. Volume sales have seen similar declines as well: Angry Orchard Crisp Apple is down 16.4 percent, Samuel Adams seasonals are down 16.8 percent and Boston Lager is down 8.8 percent, according to the firm.
Slumping sales have negatively impacted the overall value of the company as well. Shares of Boston Beer (SAM) have been steadily declining since last January. During Thursday trading, shares dipped 2.7 percent, to $156.25 per share. One year ago, Boston Beer was trading at more than $320 per share and, over the last 52 weeks, the stock is down more than 37 percent.
During a call with investors and analysts, Roper cited three keys in turning around Boston Beer's business:
Reversing the downward trend of Samuel Adams and Angry Orchard through the packaging refresh, "through our packaging, innovation, promotion and brand communication initiatives" to either low declines or flat.
Increasing cost savings and efficiency to increase gross margins by 1 percent a year over the next three years. Jonathan Potter's addition as CMO was also touted as being brought in to "question everything we do."
Innovation of new brands, "where our current focus is ensuring that Truly Spiked & Sparkling maintains its leadership position and reaches its full potential."
When asked by an analyst when Boston Beer could reasonably expect to see the business turnaround, Koch said many chain retailers — including Walmart and Kroger — are already beginning to reduce the number of craft SKUs they carry and reallocating that space back to larger suppliers.
And, Koch said, wholesalers are also reducing the number of new craft brands they sign as well as the number of craft SKUs they'll keep in inventory, which he believes will benefit Boston Beer.
"They have put up the yellow light," he said.
"It is an end to a long phase of continually increasing shelf space," he added. "There's a high likelihood that we will benefit as will the stronger craft brands from removing confusion from the category."
For the remainder of the year, Boston Beer is looking at per barrel price increases of up to two percent. Depletions and shipments are also expected to fall between two and six percent in 2016
For 2017, Boston Beer's initial depletion and shipment targets are between "the minus low single digits and plus low single digits" range. The outlook also projects a price increase of up to two percent for 2017.
Net revenue for the 39-week period ending September 24 was down eight percent, to $687.1 million year over year.