Afton, VA – To celebrate its 10-year anniversary and a long-awaited distribution alliance, Blue Mountain Brewery has refreshed their brand image to let the true spirit of the pioneering brewery shine through. Now, thanks to the new packaging, craft beer lovers who pick up a 6-pack of their beer get a taste of the brewery's relaxed personality, amazing location, and of course, the fantastic beer inside each bottle or can.
Blue Mountain partnered with The Brandit to complete the overhaul on their branding and packaging. The branding agency brought the brewery's roots to the surface by helping them express a soulful, yet not-too-serious vibe. The packaging makeover started with Blue Mountain's logo and flagship beers and will continue across their seasonal offerings.
The new bottles and cans literally bring the beer's ingredients to life, each beer style taking its fans on a trip to the scenic hop farm, off to adventure-filled mountains, or floating down the river.
"We helped Blue Mountain reposition their branding efforts to focus on reconnecting craft brewing (and craft consumers) back to the landscape—back to farming ingredients, back to relaxing in the countryside, and back to the adventure of the mountains," said Matt Ebbing, Creative Director at The Brandit. "What has been so fun about working with Blue Mountain is the energy and levity with which they approach beer and life. The collaborative process to work on stories that come to life as an illustration on each product's package has been a hoot."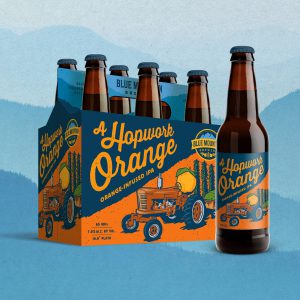 A Hopwork Orange, an orange-infused IPA, is represented by an oversized orange driving a tractor through a hop farm, the trailer filled with harvested hops ready for brewing. Full Nelson, their hallmark Virginia Pale Ale, features a giant hop lounging in an Adirondack chair while enjoying a view of the Blue Ridge Mountains. A classic truck is driving down Kolsch 151's namesake highway but instead of blacktop, the scenic road is built with ropes of barley. A crop-dusting plane spews hops over a distant field for Blue Mountain's new double IPA, Hopduster. Rockfish Wheat features trout having a lazy day of tubing down the Rockfish River. Blue Mountain's Classic Lager stars a baseball mitt filled with hops, barley and malt, with rolling fields and an iconic farmhouse in the background.
"I finally see who we are reflected on our packaging," said Taylor Smack, Blue Mountain Brewery co-founder and brewmaster. "Ten years ago we made the ridiculously faith-fueled leap to open a brewery in the middle of a hayfield in a county with only 12,000 people and one stoplight. We knew there was something magical about getting folks out of the city to enjoy just chilling out right up against the Blue Ridge Mountains. And it's been a fantastic and successful ride. With our new packaging we get to share that relaxed sense of place and natural beauty with beer lovers even when they're not visiting us at the brewery. This art brings Blue Mountain to the store shelves. It's perfectly us."
About The Brandit
The Brandit is a boutique brand development, graphic design and marketing agency. Our creative talent and unwavering devotion to results allows us to create brands that are: Compelling. Strategic. Powerful. Timeless. Awesome. We create brands that work. www.thebrandit.com