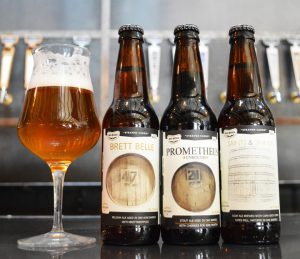 Raleigh, NC  — From the "Strange Cargo" series of oak aged ales Big Boss Brewing announces a trio of bottle releases.
Capturing the earthiness of brettanomyces, Brett Belle employs our Belgian ale, Hell's Belle, as a catalyst to a dry funk finish.  Approximately 120 days of conditioning in oak wine barrels gave way to a complete transformation to a distinctive barnyard flavor. 7% Alc By Vol
A new version of Prometheus Unbound we took our 8% stout base and aged it in oak bourbon barrels with cherries!  Dark malt & chocolate notes blend with an added dimension of oak and Virginia bourbon melding together for it's final presentation.
Our continuing sour offering, Saints & Sinners aged in oak foedres for six or more months.  S&S is a Flanders inspired ale that captures a refreshing fruit and oak qualities of the vessel. Brewed with corn from Yates Mill, one of the oldest working stone mills in the country (established around 1756) is right here in Raleigh. 5% Alc By Vol