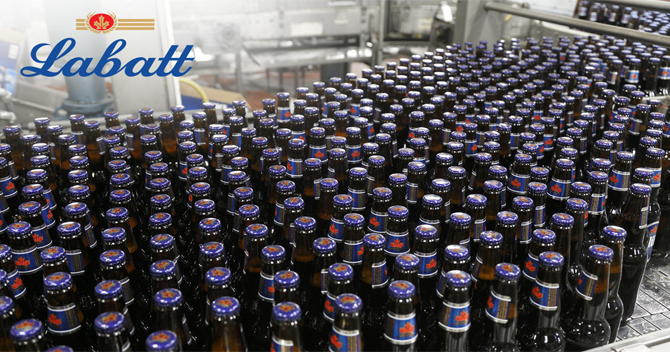 In addition to the $2 billion it will spend on capital expenditure projects in the U.S. over the next four years, Anheuser-Busch InBev, via its Labatt Breweries subsidiary, plans to spend $460 million to improve operations at its six Canadian breweries.
Following the investments, which are slated to conclude in 2020, Labatt Breweries will have spent more than $1 billion over a nine-year period, the company said in a press release.
"We have been an integral part of Canada's economic and community life for 170 years and with these investments, we will enhance our operations to support further growth for the next 170," Labatt Breweries president Marcelo Abud said via the release.
In 2017, the company will spend $117 million, more than $62 million of which will go toward brewery operations.
The more notable 2017 investments include modernizing brewery equipment and processes, increasing production of innovative product offerings, and preserving water, energy and other resources.
The investments will also "support" 9,000 direct and indirect jobs, the company said.
Recall that parent company A-B InBev made a similar announcement earlier this year when it committed to spending $500 million on various brewery, distribution, and packaging and innovation initiatives in 2017 alone.
A press release with additional details is included below.
Labatt celebrates 170th anniversary with extensive capital investment program
TORONTO, Sept. 20, 2017 /CNW/ – As Labatt Breweries of Canada celebrates its 170th as a leading Canadian brewer, it today announced an extensive current and ongoing capital expenditure program that will see the company invest more than $1 billion between 2011 and 2020.
The company has invested more than $546 million in capital improvements in the period 2011 through 2016 and has planned a further approximately $460 million between 2017 and 2020. Labatt will invest almost $117 million in 2017, including $62.2 million in brewery operations. The investments will enhance Labatt's operations and support its growth strategy, as well as bolster national, provincial and local economies.
"Labatt's unshakeable commitment to Canada and its communities began with our founding in 1847 and, as this investment program underscores, it is as strong today as ever," said Marcelo Abud, president, Labatt Breweries of Canada. "We have been an integral part of Canada's economic and community life for 170 years and with these investments, we will enhance our operations to support further growth for the next 170."
As Canada's largest brewer, Labatt is undertaking this major capital expenditure program across the country to build on its 170-year legacy of brewing excellence. Labatt's 2017 investments in new technology and equipment will:
modernize and optimize brewery equipment and processes,
increase production of new, innovative product offerings,
maintain and ensure product quality,
enhance and diversify packaging and labelling capabilities,
preserve water, energy and other resources and improve and increase environmental sustainability at our facilities,
improve employee safety and emergency response capabilities, and
improve logistics.
"These investments enable our employees – our unique and strongest asset – to do what they do best – brew Canada's best-loved beer," said Damola Oshin, Labatt's vice president for brewery operations. "They show our confidence in our future and our commitment to the communities where we live and work. Since 1847 we have been steadfast in our dedication to brewing great tasting, high-quality beer," said Oshin.
The investments will help support 9,000 direct, indirect and induced jobs in Canada.
In addition to its capital expenditures, between 2011 and 2016 Labatt invested approximately $170 million through donations and corporate sponsorships in communities across Canada and has allocated a further $115 million for the period 2017 through 2020 for a total of approximately $285 million.
Labatt's impact on Canada's economy extends far beyond these investments. Labatt employs more than 3,500 skilled workers and managers at breweries and other facilities across Canada and supports indirect and induced employment for an additional 15,400 Canadians on an annual basis. Between 2011 and the end of 2016, Labatt paid nearly $1.5 billion in salaries and wages, spent $5.3 billion on goods and services from hundreds of large and small Canadian suppliers, and paid $7.1 billion in federal, provincial, excise, property, payroll and other taxes to support Canada's health care, education and other essential services. In 2016 alone, Labatt purchased 311,000 metric tonnes of barley from Canadian farmers valued at $109 million.
One of Canada's iconic business enterprises over the past 170 years, Labatt's commitment to Canada and to its communities and people began with our founder, John Kinder Labatt. That philosophy has evolved into Labatt's current dream to "Bring People Together for a Better World" which includes a wide range of programs and initiatives for Canadian communities, responsible use, and environmental awareness and conservation.
About Labatt Breweries of Canada
Established by John Kinder Labatt in London, Ontario in 1847, Labatt Breweries is one of Canada's founding businesses and its leading brewer. The company today has more than 3,500 employees, six breweries, three stand-alone craft brewers, and a portfolio of 60 quality beers, including Budweiser, Bud Light, Alexander Keith's, Labatt Blue, Kokanee, Stella Artois and Corona. Brands also include ready-to-drink beverages such as Palm Bay and Mike's Hard Lemonade. As part of the Anheuser-Busch InBev family, Labatt is committed to Bring People Together for a Better World, making a positive contribution through multiple programs that support its communities, promote responsible drinking and protect the environment.