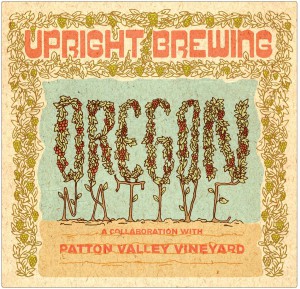 Portland, OR – Upright Brewing is proud to announce the release of one of our most exciting projects yet — Oregon Native. This barrel fermented wild ale is a collaboration with Derek Einberger, a winemaker at Patton Valley Vineyards and the beer uses their pinot noir grapes to blend the line between wine and beer.
Upright will be debuting the beer at Patton Valley Vineyards on Memorial Day, Saturday May 28th, and then it will be available in the Upright Brewing tasting room on Thursday June 2nd.
Waxed dipped bottles of Oregon Native will be on sale for $20 each with a 3 bottle per person limit at the brewery.
About Oregon Native:
Oregon Native is a collaboration with Derek Einberger, winemaker at Patton Valley Vineyards. The beer combines their estate pinot noir grapes with our method of cask fermentation on whole fruit, the idea being to highlight the varietal and make a pinot beer, not simply a grape beer. To keep it from becoming too busy on the palate, we avoided the usual mix of yeasts and bacteria employed here for their vineyard culture, yielding a profile without excessive peaks, allowing the nuance of the fruit to show in both aroma and flavor. Aged in casks from both Patton Valley and Fausse Piste, the Oregon Native expresses a truly local character.
Grains: two-row, vienna, wheat
Hops: 2012 harvest Columbia, aged at room temp.
Also: pinot noir grapes
Brewed: September 21st 2014, bottled September 24th 2015
Yield: 106 cases, 5 kegs, 7.75% ABV