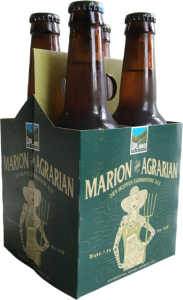 BLOOMINGTON, IN — Upland Brewing Co.'s favorite farmer and heroine, Marion the Agrarian, returns this spring. Marion the Agrarian is a farmhouse ale, which is a style traditionally brewed in Belgium and France using grains, hops, spices, and other available ingredients from the previous year's harvest. This dry-hopped farmhouse ale will be available in April in 4-packs and on draft.
Marion the Agrarian showcases locally sourced wildflower honey from Hunter's Honey Farm in Martinsville, Indiana, and citrusy American hops. The merging of old world flavors is expressed through the spicy yeast and continental pilsner malt.
"The goal with Marion was to create a citrus-focused beer, but to aim that focus in the direction of orange and tangerine rather than the more common grapefruit characteristics that come out of many American hops. Dry hopping with the aptly named Mandarina Bavaria hop variety along with a healthy dose of local wildflower honey bring local vegetation and citrusy characteristics to the forefront," said Brewer Matt Wisely.
The hops and wildflower honey give off a balanced assertiveness along with a hint of bitterness from the low IBU. Marion the Agrarian is a refreshing beer, best enjoyed after a long day of tending the garden, shopping at the farmer's market, or kicking back in a hammock watching the sunset over the horizon.
About the Beer
Marion the Agrarian pours a foggy gold with tinges of copper. The aroma is of peppery spice with citrus, light pine, and stone fruit. The initial flavor is a burst of fruity spice provided by a traditional Belgian Saison yeast. This is complemented by refreshing highlights of tangerine, lemon, pear, and apple imbued by Mandarina Bavaria dry hops. Floral notes linger from an addition of local wildflower honey.ABV: 7.5%  IBU: 30Images: Bottle, 4-pack bottles