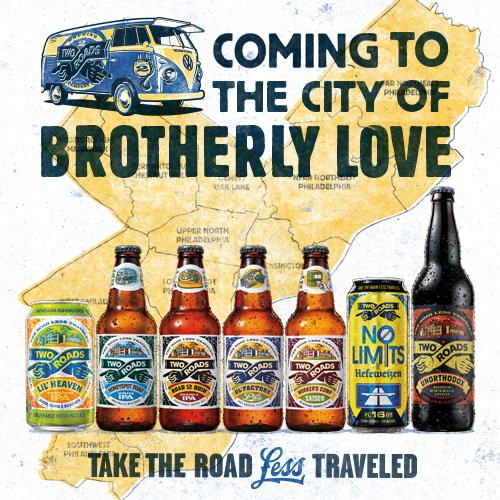 Stratford, CT — Two Roads Brewing Company of Stratford, CT announced today that Muller, Inc. will be the distributor for the Two Roads brands in the metropolitan Philadelphia area. The launch commences April 6th with a full week of events in prestigious accounts in the Philly area.
Clem Pellani, Partner and VP Sales and Marketing for Two Roads commented that "we are really excited to work with Muller. They stand apart based upon their commitment and track record for brand building and their rich history distributing world class beers in the state. We are also excited to be able to offer our beers to the Philadelphia beer fans who are among the most passionate and knowledgeable craft beer consumers in the country."
John Houck of Muller also remarked that "we couldn't be more proud to represent such a world class brewery. We can't wait to get the Two Roads brews into the thirsty mouths of the Philly consumer."
ABOUT TWO ROADS BREWING COMPANY
Two Roads opened its doors in December 2012 having earlier acquired and renovated a 100-year-old vacant, brick factory building in Stratford, CT. Its name and philosophy are inspired by the Robert Frost Poem "The Road Not Taken"—a philosophy brought to life in the beers they create using the highest quality brewing and packaging equipment. Two Roads Brewery is open for tastings and tours Tuesday-Sunday; for more information go to www.tworoadsbrewing.com or contact communications manager Emily Sauter: emily@tworoadsbrewing.com
ABOUT MULLER DISTRIBUTING
Muller is located in Northeast Philadelphia and is one of the nation's largest distributors of malt beverages. The Muller name has long been associated with beer in Philadelphia —members of the Muller family grew up in the Brewerytown section of the city and beginning in the 1800s worked in breweries and delivered beer in horse-drawn wagons. Jack Muller, the founder of Muller, Inc., started in the beer business in 1938 with the formation in Philadelphia of Holmesburg Distributing. Under Jack Muller's leadership, Clement & Muller became the largest distributor of Miller and Colt 45 products in the United States. In April 2000, Jack, who was now 92 years of age, turned his company over to Sandra, his wife of thirteen years. In January 2001, Sandra renamed Clement & Muller to Muller, Inc. Today, Muller, Inc.'s over 200 employees sell over 8 million cases of beer annually from the company's modern facility. Muller, Inc. is proud to be a multi-generational Pennsylvania Beer Wholesaler that has the ability to provide quality, family-sustaining jobs in our community.