In a clear win for beer distributors, the Texas Senate yesterday voted 19-10 in favor of a bill that, if signed by Governor Greg Abbott, would require breweries making more than 225,000 barrels annually to repurchase their own product from wholesalers in order to continue selling beer for on-premise consumption at their taprooms.
Brewers remain opposed, warning that, if signed into law, the bill could stifle the growth of the Texas craft beer industry.
"I'm not an economist, but one would have to assume that increased costs and a cap on growth would absolutely lead to increased prices and layoffs, possibly even closures," Deep Ellum Brewing founder John Reardon told Brewbound. "The middle tier gets pure profit with no need to hire additional people or invest in their business."
Independence Brewing Company co-founder and president Amy Cartwright said her company employs a full-time taproom manager and several part-time employees who could be impacted.
"I believe we would have to increase our pricing to customers based on marked-up beer costs," she said. "Inevitably, this would make it more challenging to operate the taproom as we are in an industrial space not originally designed as a bar.
"We will do our best to keep them team on board," she added.
Over the coming weeks, members of the Texas House and Senate will confer on a final version of House Bill 3287, which was backed by the Beer Alliance of Texas and Wholesale Beer Distributors of Texas, before sending it to Texas Gov. Abbott.
Texas Craft Brewers Guild executive director Charles Vallhonrat told Brewbound that his group will ask Abbott to veto the bill.
"It's hard to say where he leans right now," Vallhonrat said.
In a statement released Monday night, the guild called the passage "incredibly disheartening."
"As the Texas Craft Brewers Guild has said time and time again over the last few weeks, this bill will put a ceiling on success for the 200+ craft breweries operating in Texas and will slow the future growth of what has become an important burgeoning manufacturing industry in our state," the guild wrote in the statement.
In the version of the bill approved by the Senate, the 225,000-barrel threshold is calculated by adding up the barrelage from any affiliated brewery with a 25 percent or more stake in the company.
The Senate version of the bill allows breweries to operate up to three taprooms, and each of those spaces can sell up to 5,000 barrels directly to consumers.
Both bills also included language that redefined self-distribution privileges for Texas brewers. Previously, in-state beer manufacturers were allowed to self-distribute up to 40,000 barrels per location, provided that each location did not produce more than 125,000 barrels annually. That has been rewritten to cap self-distribution at 40,000 total barrels across all brewing locations.
"It's a confusing bill by design, but its intention is clear," Reardon told Brewbound. "It adds to the pockets of wholesalers without any benefit to the upper tier."
Reardon said he was "shocked" by not only the speed with which the bill zipped through the Legislature, despite six days remaining in the session, but also with Texas wholesalers' ability to frame the bill as a protection for the state's craft brewers from losing market share to macro brewers.
"I've never seen anything like it," he said.
"It's classic politics," Cartwright added. "Let's use a bogeyman to get our agenda passed."
Reardon told Brewbound that the bill's author, Craig Goldman (R-Fort Worth), has been a "stalking horse of the wholesalers" for years, and he raised questions about how the state plans to enforce the potential law.
"They just made the Texas Alcoholic Beverage Commission (TABC) a tax office for the wholesalers," Reardon said. "That's what this bill did."
Vallhonrat echoed concerns with the TABC being the enforcement agency.
"They're going to hand this over to an organization that has historically poorly interpreted the law and is in turmoil right now," Vallhonrat said. "That's dangerous on many levels."
Earlier this year, the TABC's executive director resigned after questions arose over taxpayer funded trips. Next month, the state will begin a sunset review of the agency.
"It's [bad] timing to add a confusing bill to docket for an agency that is not at its best right now," Vallhonrat said.
In a post to the company's Facebook page on Monday night, Reardon laid bare the consequences for breweries that have accepted investments. (Last year, Storied Craft Breweries, an upstart growth capital group, purchased a 56 percent stake in the brewery.)
"This (soon to be) law will require a brewery like ours, who has accepted investment from a group that has intentions of building a portfolio of craft beer, to buy the beer that we sell in our taprooms from a distributor," Reardon wrote.
The 225,000-barrel cap will affect MillerCoors-owned Revolver in Dallas-Fort Worth and Anheuser-Busch InBev-owned Karbach Brewing in Houston.
At the Beer Marketer's Insights seminar, held earlier this month in Chicago, Revolver co-founder Rhett Keisler characterized the taproom reform efforts as "shortsighted," noting that his brewery only sells about 300 barrels to approximately 20,000 visitors annually.
"This was our chance to R&D beers and talk with them and connect with them," he said during the meeting.
Karbach Brewing opposed the initial bill, which didn't allow additional taprooms. However, the company has since flipped its support after language was included in the bill allowing for up to three taprooms.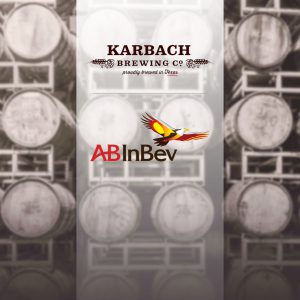 "When this legislation was originally proposed, it would have forced an immediate and significant reduction of Karbach's workforce, as well as the indefinite closure of our popular restaurant and biergarten," Karbach general manager David Greenwood said in a statement issued to Brewbound. "We are relieved that the bill ultimately approved by the legislature allows our facilities to remain open, our staff to remain employed, and Karbach Brewing to pursue opportunities for expansion."
The Austin outpost for Oskar Blues, which has several brewery and taproom locations in Colorado and North Carolina, will also be affected.
"They'll have to sign a territorial agreement to buy their own beer that doesn't leave their taproom," Vallhonrat said of Oskar Blues.
The cap will also affect Independence Brewing Company, which produced 19,700 barrels last year. Last summer, Heineken International-owned Lagunitas invested in Independence, which seemingly puts it over the 225,000-barrel cap, as Lagunitas alone produced close to 1 million barrels in 2016.
"We are the smallest of the bunch," Cartwright told Brewbound. "We were probably an oversight when they were crafting this."
Cartwright said the language in the bill is so "convoluted" and "complicatedly worded" that she wondered if her brewery was included in the provisions.
"There are lots of questions about how this will actually work," she said.
Cartwright told Brewbound that she's considering ending taproom sales altogether, instead offering samples to consumers, which the brewery did from 2004 to 2013 when taproom sales were not legal.
"We have to decide as a brewery what to do about it," she said. "The bulk of our history, we weren't allowed to do that anyway.
"Part of me just wants to go back to that," she continued. "I don't want to mess with the huge regulatory burden and act as retailer and file all of the taxes. There's a lot of red tape. I think they've really created a beast."
Independence's taproom sales are often used as a model to do community fundraising, including raising money for a service dog program for veterans, Cartwright said.
"We don't want to go back on any commitments that we made that way," she said. "It's definitely more difficult to fund those initiatives."
For Deep Ellum, the news comes as the brewery is on the verge of a doubling its capacity, installing a 60-barrel automated brewhouse, Reardon said. Although Reardon said he would never leave his "mothership," the bill scuttles any plans he had for a second brewery in Texas. In fact, he is exploring other options, including Illinois and Florida, among others, that would feature off-premise sales as well as direct-to-consumer brewery sales for his second location.
"It [opening a brewery outside of Texas] would just be a perfect display of how our legislators chased a business away from the state," Reardon said. "Our legislators put a ceiling on how big we'll be in the state."
As for the beer made out of state, Reardon said: "The Texas distributors, they can pay for the shipping to bring it [the beer] back to the state."
Should the bill become law, Reardon expects another legal challenge, adding to Deep Ellum's pending lawsuit against the TABC for the right to sell packaged beer to-go. (Texas is the only state in the country that has outlawed to-go sales at breweries.)
"On the bright side, this will be pretty much impossible to enforce and all but guarantees another lawsuit against the TABC [Texas Alcoholic Beverage Commission]," Reardon wrote on Facebook. "I hope the federal judge who is presiding over our equal protection lawsuit is paying attention. We've been awaiting a ruling for seven months and it's my personal belief that the judge wanted to give our legislators time to right this wrong on their own. Instead, they just continued their protection and enrichment of the middle tier, thereby weakening the whole system in the process. Three-tiers, hooray!"
Reardon also told Brewbound that a bill that would have legalized to-go sales at Texas breweries failed to get a hearing.