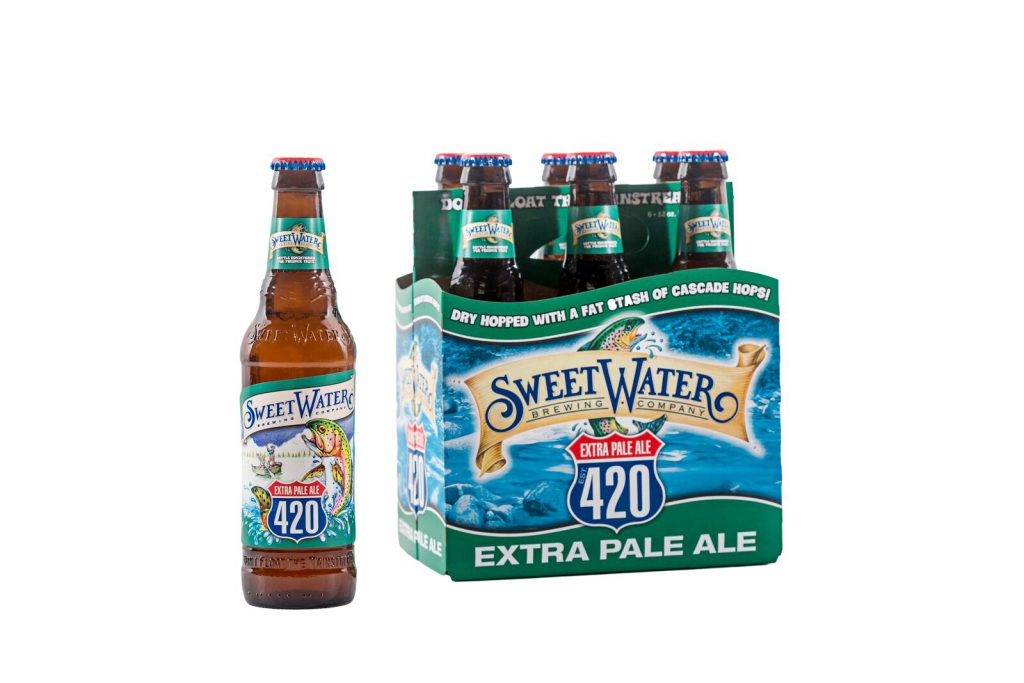 ATLANTA – SweetWater Brewing Company announces expanded distribution to Northern Indiana with Indiana Beverage & Five Star Distributing.  Starting August 21, more Hoosiers will be able to find SweetWater's signature 420 Extra Pale Ale, award winning IPA, Hop Hash Easy IPA, and Goin' Coastal IPA with pineapple, plus seasonals like TripleTail tropical IPA and limited releases from the Dank Tank. SweetWater will be on draft at bars and restaurants, in grocery stores, package stores, and specialty bottle shops.  SweetWater first launched in Indiana in June with Monarch Beverage, who services additional areas of the state.
"I had my first SweetWater 420 Extra Pale Ale 5 years ago while working a beer festival.  I instantly fell in love," says Matt Johnson Craft And Specialty Brand Manager for Indiana Beverage and Five Star Distributing. "The quality of beer and the passion of the team at SweetWater are values that we at Indiana Beverage and Five Star really look for in a partner.  We are extremely excited to bring these great beers and their amazing message to the people of Northern Indiana."
The expansion will include the following counties: Lake, Porter, LaPorte, Newton, Jasper, Pulaski, Starke, St. Joseph, Marshall, Fulton, Elkhart, Kosciusko, Wabash, LaGrange, Noble, Whitley, Huntington, Grant, Steuben, Dekalb, Allen, Wells, Adams, and Benton.
Several launch events are being held starting August 21; craft beer drinkers interested in finding SweetWater in Indiana should follow SweetWater's Indiana Facebook page, Indiana Beverage's and Five Star Distributing's Facebook pages for more information and where they can spot the brewery's iconic rainbow trout tap handle.
To learn more about SweetWater Brewing Company and its full lineup of brands, visit www.sweetwaterbrew.com.
ABOUT SWEETWATER BREWING COMPANY
SweetWater Brewing Company is an Atlanta-based craft brewery living by the motto "Don't Float the Mainstream!" The award-winning lineup of year-round beers includes SweetWater 420 Extra Pale Ale, IPA, Blue, Hop Hash Easy IPA, and Goin' Coastal IPA with pineapple.  SweetWater also features seasonal releases, an experimental, one-time-only Dank Tank series, and a Woodlands Project 750 mL series of barrel aged, progressive styles.  For more information about SweetWater Brewing Company, please visit sweetwaterbrew.com.  Follow SweetWater on Twitter/ Instagram @sweetwaterbrew, or become a fan on Facebook at facebook.com/sweetwaterbrew.
ABOUT INDIANA BEVERAGE & FIVE STAR DISTRIBUTING
Indiana Beverage is an independent family owned wholesale distributor who has been delivering the difference since 1939.  Headquartered in Porter County Indiana with approximately 270 employees, Indiana Beverage provides quality service to its customers by promoting the responsible use of its products.  For over 75 years, Indiana Beverage has been dedicated to its core values of: passion, respect, integrity, commitment, and excelling.  These values and the company's success are shared by every member of Team Indiana Beverage.  For more information about Indiana Beverage visit www.indianabev.com.  Follow these social handles:  Indiana Beverage west: https://www.facebook.com/219Beer/; Indiana Beverage east: https://www.facebook.com/574Beer/; and Five Star Distributing: https://www.facebook.com/260Beer/