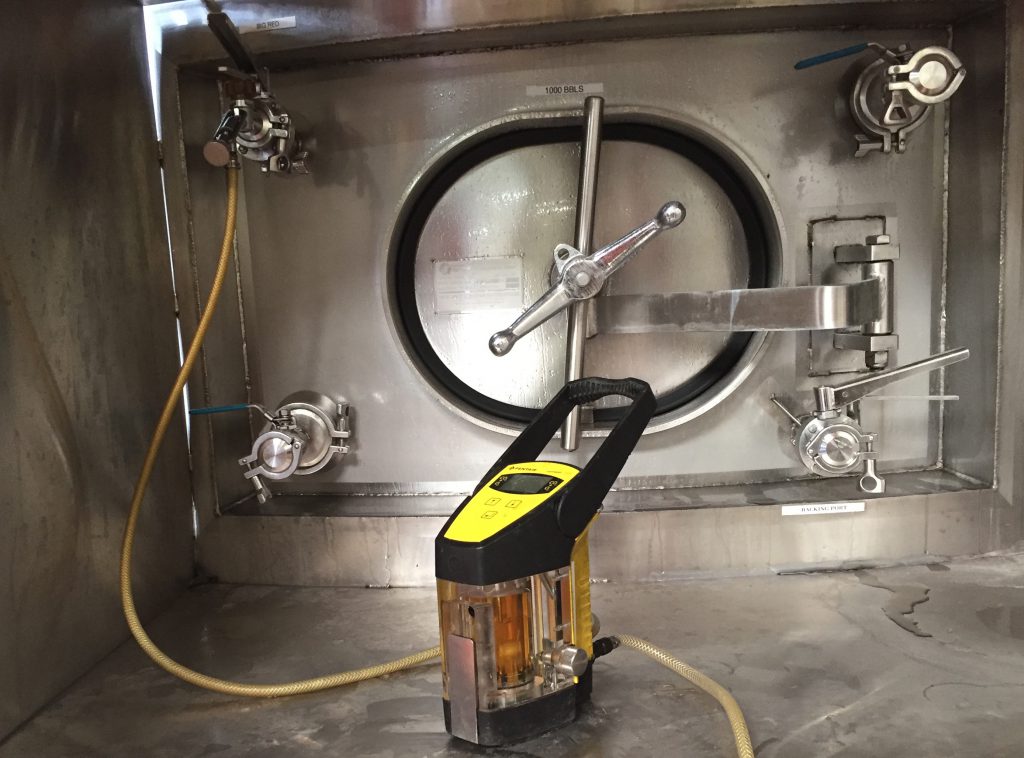 DAVIS, Calif. — Students in the Department of Food Science and Technology at UC Davis now have access to firsthand experience on a wide range of brewery technology through an innovative collaboration with Pentair, a leading solution provider to the brewing industry. In a multifaceted partnership with UC Davis, a wide range of Pentair's latest technology and equipment now provides measurement, control and filtration throughout the brewing process to the university's existing 1.5 barrel capacity brewery located in the August A. Busch III Brewing and Food Science Laboratory.
Pentair technology utilized at UC Davis ranges from quality control equipment used to monitor oxygen (O2), carbon dioxide (CO2) and other parameters in beer and carbonated beverages to a lab-size Beer Membrane Filtration (BMF) system.
Pentair recently commissioned the quality control equipment at UC Davis, which included Pentair Haffmans' portable CO2/O2 Gehaltemeter, type c-DGM, plus two O2 Gehaltemeters, type o-DGM, an Inpack TPO/CO2 meter, type c-TPO, and related equipment such as can/bottle piercers, calibration gauges, flasher heads and more. This laboratory equipment gives students and researchers access to state-of-the-art technology that measure two very important variables, CO2 and O2, which are crucial to the taste and quality stability of beer and other beverages.
"Pentair has a long-standing relationship with the brewing program at UC Davis and we are pleased that our technologies will help educate the brewers and other food scientists of the future," said Roland Folz, Global Vertical Market leader, Food & Beverage at Pentair. "In addition, we look forward to partnering with the researchers at UC Davis on developing quality control equipment for the evolving needs of brewers."
Additionally, Pentair has designed and constructed a beer membrane filtration (BMF) system, sized for the pilot brewery. This system will allow the university to study the filterability and run times of hoppy or craft beers as well as the quality of beer after filtration. The system will be installed at the university in the near future.
"The quality control instruments and filtration system will allow us to expand our research and teaching capabilities and continue to show the important role that UC Davis plays in the brewing industry," said Charlie Bamforth, Distinguished Professor, Department of Food Science and Technology.
Pentair is also partnering with UC Davis' Barile Lab, a facility that allows for innovative ways to conduct collaborative and multi-disciplinary dairy food science research. Pentair is providing the Barile Lab with both lab-scale and pilot filtration units that use hollow fiber membranes to filter milk. These systems will be used for research to compare hollow fiber membrane technology with other filtration equipment that is currently used in dairy applications. As part of this collaboration, a Pentair Fellow for Dairy, Andrea Tam, has been selected. She will be co-mentored by Dr. Daniela Barile and Dr. Juliana DeMoura Bell.
About UC Davis
The Department of Food Science and Technology at UC Davis is internationally recognized for its advances in making food and beverages more healthful, appealing and safe. It is the only such department within the University of California and is the state's principal academic food science research group.
About Pentair
Pentair plc (NYSE: PNR) is a global company dedicated to building a safer, more sustainable world. Pentair delivers industry leading products, services and solutions that help people make the best use of the resources they rely on most. Its technology moves the world forward by ensuring that water is plentiful, useful and pure, and that critical equipment and those near it are protected. With 2017 revenues of $4.9 billion, Pentair employs approximately 18,400 people worldwide. To learn more, visit www.pentair.com.