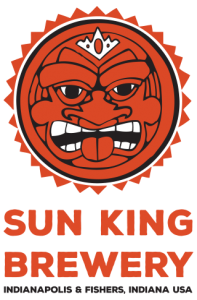 Sun King Brewing is continuing to reestablish distribution across its home state of Indiana, today announcing expanded coverage to 39 counties in southern Indiana via Monarch Beverage.
The decision to grow comes nearly one full year after the company pulled out of some Indiana markets to avoid exceeding a statewide small brewery production cap that, at the time, was set at just 30,000 barrels. That cap was raised in May, when Indiana Gov. Mike Pence signed into law a bill that tripled the production limit to 90,000 barrels for self-distributing breweries with tasting rooms.
Three months later, Sun King re-signed with Monarch Beverage, a wholesaler that it had previously worked with, for coverage throughout Central Indiana.
At the time of Sun King's original decision to scale back its distribution, however, the company was butting up against the state's 30,000-barrel production cap. So, last December, it severed ties with Monarch and two other wholesalers — North Vernon Beverage and Indiana Beverage — in an effort to maximize profits in markets closer to Indianapolis, where the company is based and self-distributes.
"My company is unable to grow or sell more beer close to home, so we kind of stagnate," brewery founder Clay Robinson told Brewbound last January, who at the time was lobbying for an increase.
But now that Indiana breweries are allowed to produce 90,000 barrels without forfeiting their self-distribution and tasting room privileges, Sun King can once again consider adding new markets.
"The territory that was formerly serviced by North Vernon Beverage has been reassigned to Monarch," Robinson wrote to Brewbound in an email. "We have met with Indiana Beverage and will be assessing our options for the northern third of the state."
Robinson added that Sun King has been "gradually expanding" its distribution as production capacity grows, but that it is "being cautious not to allow demand to outstrip supply."
"We are currently working on another round of expansion and feel comfortable that we will have the capacity to add the northern third of the state by spring," he wrote. "We will be making a decision about distribution for the area in early 2016."
Monarch currently sells Sun King products across two-thirds of the state, Robinson added.
"We are extremely excited to have been selected by Sun King as a distributor partner," Monarch GM John Xenos said in a press statement. "We look forward to working with Sun King and expanding availability so more Indiana residents can enjoy their locally-crafted beer."
Sun King is on pace to produce about 30,000 barrels in 2015, Robinson said.