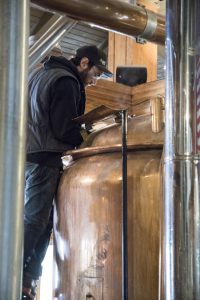 DAVIS, CA — Davis residents have a few things in common with their founders 100 years ago: they take pride in their city, their university and their beer.
To commemorate Davis' centennial this year, city officials approached its most venerable brewery, Sudwerk, for a collaborative project and a special Centennial Lager. Brewed on March 23,the limited batch will be ready to sample at a release party on Sunday, April30 from 1 to 5 p.m. The event will include classic rock hits from Odd Man Out,beginning at 2 p.m.
After the April30 event, beer fans will find it at Sudwerk's taproom, The Dock, and a handful of Davis venues. A portion of net proceeds will go to the city's Centennial Plaza project.Centennial Plaza, the southeast corner of Second and G streets,will be improved from the train station to the intersection with new landscaping, art work, interpretive historical signage, a time capsule and a public plaza.
Centennial Lageris a California Common — "Howthey used to make lagers 100 years ago," Sudwerk co-owner Trent Yackzan said.Also called steam beers, California Commons have a faster fermentation and a clean flavor.
The lager, brewed with Centennial hops, of course, will be about 6% alcohol by volume and have anInternational Bittering Unit (IBU) measurement of 40 out of 100.
Sudwerk Lead Brewer Thomas Stull added El Dorado hops for some stone fruit aroma, to complement Centennial hops' citrusy, piney flavors.
Mayor Robb Davis said,"The partnership between the city and Sudwerk, combined with the traditional brew-making technique of open fermentation, just like they did 100 years ago,makes this brew truly distinctive, and worthy of a centennial celebration."
The city ordered commemorative glasses, which will be sold at the April 30 event. The European Cadera glass will host both the city's centennial logo and the Sudwerk logo. In addition, the glass is nucleated, to enhance the carbonation and accentuate the aroma release.
Yackzan added, "We're excited. Growing up in Davis, it's gratifying to be able to work with the city and give back to our community."
Established in1989, Sudwerk Brewing Co. specializes in artisan brews, specifically West Coast craft lagers. Its taproom, The Dock, at 2001 Second St., Davis, is open from 4to 8 p.m. Tuesdays through Thursdays, 4 to 9 p.m. Fridays and Saturdays, and 2to 8 p.m. on Sundays. It offers a rotating menu of experimental and innovative beers, "honest pints" and growler fills, fresh White Labs brewers' yeast, and good conversation. Learn more at http://sudwerkbrew.com.