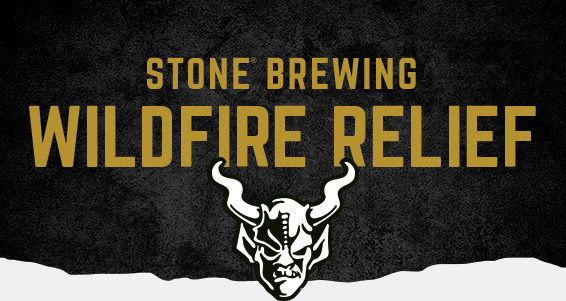 ESCONDIDO, Calif. — Stone Brewing's distributing division, Stone Distributing Co., donated $72,000 of its sales in the month of October to benefit those affected by the devastation of the recent Northern California fires. The donation was generated from a percentage of Stone beer sales and the sales of 17 of its supplier partners, most notably Bear Republic and Russian River of Sonoma County.
Funds were sent to Direct Relief, providing emergency assistance to California's Office of Emergency Services, the Napa County Public Health Department and more than 40 health centers and clinics in the affected region.
"We're relieved to know that our fledgling team at our soon to open Stone Brewing Napa location, and our friends at Russian River and Bear Republic are safe. Employees, colleagues, friends, family and neighbors of everyone in that region, however, have been dramatically affected," said Dominic Engels, Stone Brewing CEO. "Rallying our supplier brand partners proved to be enormously impactful, and I'm humbled by the enthusiastic response and outpouring of support that we received surrounding this effort."
With a tragedy of such huge proportion, Stone was compelled to take immediate action. Proceeds were promised from the sale of Stone Brewing, Russian River and Bear Republic beers throughout the month of October. What's more, in an act of amazing solidarity that is characteristic of the independent craft brewing community, the following list of brands distributed by Stone Distributing Co. also committed to donating a portion of each case for the entire month.
Avery Brewing Co.
Boochcraft
Eel River Brewing
Freemont Brewing
Kern River Brewing Company
MadeWest Brewing Company
Mason Ale Works
Maui Brewing Co.
Mikkeller Brewing
Modern Times Beer
Oskar Blues Brewery
Ska Brewing
Smog City Brewing Company
The Bruery
The Lost Abbey
Victory Brewing Company
Wandering Aengus Ciderworks
In addition to the $72,000 donated to victims of California's wildfires, Stone supported the victims of Hurricanes Maria and Harvey via a portion of sales from every pint or growler fill of Stone IPA and Stone Delicious IPA at the company's locations. The company also donates a portion of proceeds of all brewery tours to a different local organization each quarter. In Sum, Stone donated $86,345 to charity last quarter, an effort made possible by its generous partners and charitable fans.
ABOUT STONE BREWING
Founded by Greg Koch and Steve Wagner in 1996, the groundbreaking San Diego-based Stone Brewing is the 9th largest craft brewer in the United States. Recognized as an award-winning, industry leader, Stone has been listed on the Inc. 500 | 5000 Fastest Growing Private Companies list 12 times, has been called the "All-time Top Brewery on Planet Earth" by BeerAdvocate magazine twice. The multifaceted company is the first American craft brewer to independently build, own and operate their own brewery in Europe (Berlin, Germany), and also opened a production brewery in Richmond, Virginia in 2016. Known for its bold, flavorful and largely hop-centric beers, Stone has earned a reputation for brewing outstanding, unique beers while maintaining an unwavering commitment to sustainability, business ethics, philanthropy and the art of brewing…and pledging never, ever, sell out to the man. For more information on Stone Brewing, please visit stonebrewing.com or the company's social media sites: Facebook, Instagram, Pinterest and Twitter.
ABOUT STONE BREWING – NAPA
Opening in early 2018, Stone Brewing – Napa includes a 10-barrel brewing system, an indoor/outdoor dining experience, growler fill and Stone merchandise. Located in downtown Napa on 3rd Street and Soscol Ave, the 10,000 square-foot iconic building was completed in 1877 and stood vacant for the past 15 years. Stone's renovations will open the building to the adjacent Napa River while maintaining the building's historic elements. Stone Brewing – Napa will produce Stone's iconic bold and innovative beers using core recipes as well as indigenous ingredients from the local geography. Stone's food philosophy will apply, specializing in locally grown, small-farm ingredients and featuring an eclectic menu of world-inspired cuisine.
ABOUT STONE DISTRIBUTING CO.
Founded by Greg Koch and Steve Wagner in 1998, Stone Distributing Co. is California's largest distributor of independent craft beers and specialty beverages. The company represents 38 brands and services the largest beer market in the U.S., comprised of 40,000 square-miles within all of Southern California. The company's fleet of 100 refrigerated trucks is completely biodiesel-powered and all drivers are Cicerone and Draft Technician certified. Stone Distributing Co. is a division of Stone Brewing and exists to show Southern California that independent craft beer matters.  For more information, please visit stonedistributing.com.