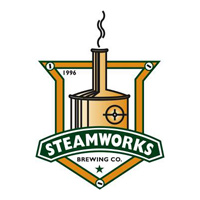 DURANGO, Colo. — Steamworks Brewing Co. continues its special monthly "firkin" tapping Friday, June 7, 2013, reprising Steamworks' own version of the popular beer cocktail "Skip and Go Naked." The cask will be tapped at 3 p.m.
"Unlike the quick and dirty fraternity house versions, Steamworks' Skip and Go Naked firkin uses the our Colorado K├Âlsch as a base, and in the brew process we've added fresh lemon juice and zest with a peach simple syrup," said Steamworks Brew Master and Certified Cicerone┬« Ken Martin, noting the brew will be garnished with fresh lemon. "This is another light and refreshing cocktail, perfect for savoring on Steamworks' back deck as the days get warmer."
A firkin is an old English unit of volume, typically a wooden cask equal to approximately one-quarter of a regular barrel, or nine gallons. Firkin beer is unpasteurized, unfiltered and naturally carbonated, or conditioned, it its cask. The yeast transforms the sugar into alcohol within the cask, and carbonation results from the trapped carbon dioxide occurring as a byproduct.
"Serving a firkin beer requires a special tap and it's gravity-poured," said Steamworks Brewer and Certified Cicerone┬« Spencer Roper. "Folks also need to remember that a firkin is served at about 55 degrees – cool but not cold. Because it contains no preservatives, it's also designed to be consumed after tapping. We know the Skip and Go Naked will go quickly."
Steamworks initiated its Firkin Fridays to introduce unusual, specialty craft beers to patrons, and augment its regular, award-winning offerings. Steamworks, open 11 a.m. to closing seven days a week, is located at 801 E. Second. Ave., Durango (970.259.9200).