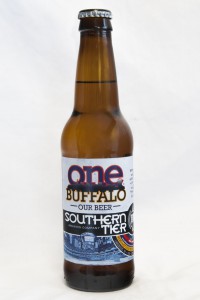 LAKEWOOD, N.Y. – Today, Southern Tier Brewing Company (STBC) announced One Buffalo Our Beer is available in six-pack bottles. The beer is available throughout Western New York in advance of the Buffalo Bills regular season opener on Sunday, September 13.
In August, STBC announced a new partnership with Pegula Sports and Entertainment (PSE) with the launch of One Buffalo Our Beer. The new beer has been available since August 14th at Ralph Wilson Stadium during Bills preseason games and at (716) Food and Sport. It has been available at other restaurant and bar locations on draft since September 1st.
"Never before has a local brewery partnered with a town's major sports franchises to make a product for people to rally behind," said Phin DeMink, founder of STBC. "The response has been outstanding, and it is obvious that Western New Yorkers are taking pride in One Buffalo, Our Beer."
One Buffalo is a combination of North American hops, malted barley, oats and wheat. It is described as a smooth, refreshing craft beer, brewed to be 4.8% alcohol/volume.
The artwork on the packaging was painted by Buffalo based artist Matthew SaGurney. Each panel on the six-pack has one of four Buffalo-centric designs.
ABOUT SOUTHERN TIER BREWING COMPANY
Southern Tier Brewing Company is committed to providing delicious, accessible and unique products. In doing so, we aim to change the way people drink beer. Our mission is to provide our customers with consistently fresh, clean, American craft ales and lagers that stand on their own merit. stbcbeer.com @stbcbeer