More than a month after Sonoma Beverage Works lost its investor funding and abruptly ceased operations, the assets of the Northern California cider and wine company are being liquidated.
According to an April 17 notice to creditors, Sonoma Beverage Works, whose brands include Sonoma Cider and Ahoy Wines, transferred ownership of the company's physical assets and intellectual property to Structured Solutions, a California-based liquidator, on April 7 in order to recoup creditors' money.
Structured Solutions has since begun the process of selling the company's assets in advance of a May 31 auction.
As Brewbound previously reported, Sonoma Beverage Works had raised more than $6 million from investors over the last five years. Father-and-son team David and Robert Cordtz founded the Sonoma Cider brand in 2013, and the pair launched the Ahoy Wines brand in November.
However, David Cordtz, the CEO of Sonoma Beverage Works, told The Santa Rosa Press Democrat that his company lost its investor funding "suddenly and without warning." That forced the company to shutter its 5,500 sq. ft. taproom, restaurant and production facility after just 17 months on March 28.
Speaking to Brewbound, Structured Solutions president Philip Von Burg said his company has been actively marketing Sonoma's Healdsburg taproom and nearby production facility "both together and separately." The auctioneer is also marketing Sonoma Beverage Works' brands in hopes of selling all of the company's assets prior to the public auction.
Sonoma Beverage Works had been leasing the properties, so Structured Solutions plans to connect interested parties looking for turnkey operations with the landlords to negotiate new lease agreements.
"The ultimate goal would be to sell everything the brand, the taproom and the production facility all together," he said. "We have some interest in it, but we seem to have more interest in the individual pieces. Unfortunately, this is an expedited sale process so we're moving down all paths at the same time."
Von Burg, who also serves as the principal and founder of Castlegate Capital Advisors, a firm that, according to its website, "offers private investment and operational expertise for businesses in transition," said Structured Solutions will make decisions on which assets to sell separately as its receives "firm offers."
"I'd say we've talked to three to four dozen potential buyers of various pieces of the business," he said. "Only a handful of those would be for the entire business."
Von Burg said he anticipates the Sonoma Cider and Ahoy Wines brands will be sold after the late-May auction in a "more deliberate sales process." Thus far, the brands have not yet received "strong interest," he said.
"People are doing their due diligence, and people making brand decisions tend to do a little more due diligence and take their time," Von Burg said.
Once the sale is completed, two of Sonoma Beverage Works' secured creditors — Summit Bank and Novus Capital, a noncommercial lender — will be paid back first, Von Burg said.
"Once that threshold is cleared, the rest will be divvied out among the creditors," he said.
Von Burg declined to share a dollar figure that his company is hoping to recoup for Sonoma Beverage Works' assets due to ongoing negotiations with interested parties and in the hopes of "maximizing value for the creditors."
Von Burg said it's unclear how many additional creditors exist. Creditors have until September 28 to file a claim with Structured Solutions.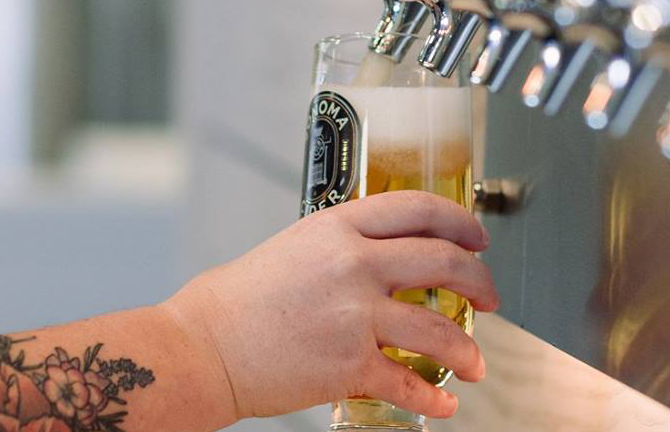 Among the items included in the auction are 6,000 gallon stainless steel fermenters, 1,800 gallon stainless steel tanks, 2,000 liter stainless steel tanks, canning and bottling lines, a pasteurizer, a labeling machine, outdoor tables and benches, barstools, kitchen appliances, bar games, a 24-foot box truck, a forklift and more.
So far, Von Burg said his company has been able to sell about 95 percent of the remaining cases of Sonoma Cider and Ahoy Wines. He added that a "going out of business sale" may be held to sell the rest. However, there are still 15,000 gallons of unpackaged organic cider that's been fermented and filtered available for purchase.
Von Burg said he expects to know the owners of the physical assets by mid-June with the proceeds being distributed to creditors by the end of November.
"I think that gives us another six months or so to market the brands," he said.