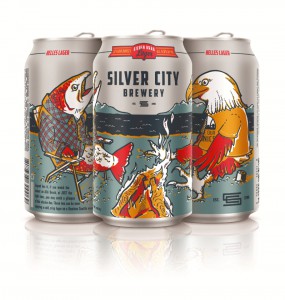 Bremerton, WA — Sieben Bräu is back. This tasty, German-inspired Helles lager was originally commissioned for the 7th Annual Seattle Beer Week, which took place this past May. The beer was such a "smash" hit with both Silver City brewers & fans alike that there was no question that it should return just in time for football season.
Sieben Bräu Helles Lager is a merger of traditional German ingredients & brew process with NW hopping. This crisp & bright lager has just a touch of sweetness that combines with the spice of the noble hop variety.
Hops: Hersbrucker, Mt. Hood
Malts: German Pilsner, Vienna
IBU's: 20
ABV: 4.8%
Silver City Brewery takes lagers very seriously. As Brewmaster Don Spencer puts it, "The best lagers are clean and balanced. No non-sense, just simple elegance. Everything is expressed in concert. You taste the sweet, light malt-toasty notes with herbal, spicy hop aromatics playing over the top. Then a nice crisp bitterness to finish. Anyone else thirsty?"
Dressed in its iconic, Northwest-inspired can art, Sieben Bräu Helles Lager is available now in 6-packs of 12oz. cans throughout Western Washington.
Citra Wet Hop Pale Ale
Every fall, the Silver City brew team anxiously awaits the harvest of one of the principal brewing ingredients – the hop. When that time comes, a crew of Silver City brewers makes their way to Eastern Washington, one of the finest hop-growing regions in the world, to carefully hand-select "wet" hops with which they will brew Silver City Brewery's annual harvest release, Citra Wet Hop Pale Ale. The Citra hop variety has one of the latest harvest periods, so preparations are made months in advance for when the hop farmers call.
… but what is a "wet" hop?
Hops are traditionally dried & kilned, losing some of their intense raw character while retaining the necessary oils to season beer. Citra Wet Hop showcases the green, unkilned character of Citra (and a few Cascade) hops, overnighted from farm to brew kettle in less than 24 hours. This process showcases unique aromas of tangerine and orange blossom and full flavors reminiscent of pineapple and pine resin creating a tantalizing experience for any hop lover.
Hops: Whole Cone Citra & Cascade Wet Hops
Malts: NW Pale, British Pale, Munich, Caramel
IBU's: 26
ABV: 6.1%
Additional Info:
For most in the Puget Sound, when you look west at the Olympic Mountains you're looking right at the "Silver City". The convergence point right before you jump off into the wilderness of the Olympic National Forest on your way to the Pacific Ocean, resting between the edge of the Puget Sound and the base of the Olympic Mountains, rests Silver City. This Urban-Suburban experience is a sweet brewer's mash of Seattle city life and breathtaking outdoor adventure, all within ones reach. Beer, well made, brings the people of the "Silver City" together in celebration of having it all.
Silver City Restaurant & Brewery is the Kitsap Peninsula's premier destination for award-winning, handcrafted beers, Northwest-inspired food, legendary hospitality, and great memories in a fun, friendly environment.
Silver City was started in 1996 by Co-owners Steve & Scott Houmes, and it remains a locally owned and operated family establishment. Silver City Brewery's handcrafted beers are available on draft, in 22oz bottles, and 12oz bottle & aluminum can 6-packs around the Western Washington area in bars, restaurants, and grocery stores. Silver City Brewery's production facility & brewery taproom is located at 206 Katy Penman Ave. in Bremerton, WA. Silver City Restaurant is located in Silverdale at 2799 NW Myhre Rd.