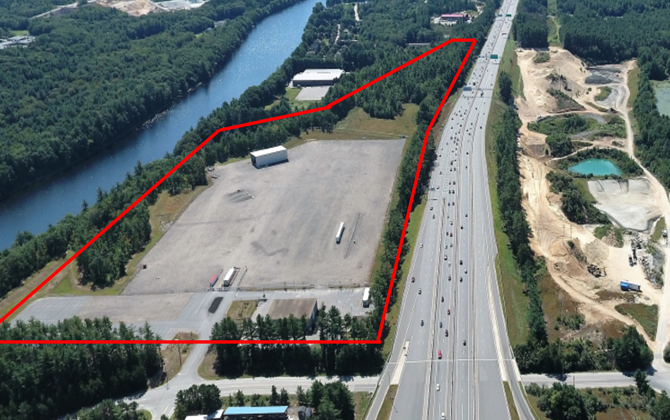 Shipyard Brewing founder Fred Forsley is partnering with Valencia Realty Capital and State Street Realty Advisors on a proposed $36 million contract brewing and co-packing facility in Hooksett, New Hampshire.
The 100,000 sq. ft. facility, which is currently under development along Highway 93 with a targeted opening date of late 2020, will be capable of producing and packaging thousands of barrels of beer, distilled spirits and non-alcoholic drinks.
Forsley told Brewbound that the facility will give smaller producers in need of extra capacity an alternative to incurring bank debt and potentially "having everything taken from you because that jumping off between growth curves is very challenging."
As many as 60 different companies could be producing at the facility when it opens, with a goal of eventually offering packaging capacity for 300,000 barrels of various products, Forsley said.
"We're going to serve the open market," added Nicolas Warren, an analyst with Boston-based Valencia Realty Capital, a commercial real estate loan company developing the property.
The group declined to say if Shipyard's beer products will be brewed at the facility. However, Forsley said the new plant would produce some of his distilled products, such as Fred's Whiskey and Ice Pik Vodka, along with his non-alcoholic brand, Capt'n Eli's Soda.
Warren added that the facility would not be reliant on Shipyard brands to take up the facility's initial 100,000 barrels of brewing capacity. Plans for the production facility include the installation of a continuous still and a pot still for the creation of distilled spirits, Forsley said.
"We're not going to be using 1980s conveyor belts and things," Warren added. "We're really looking top-of-the-line [equipment] for high efficiency."
The brewing complex will be take up just five acres of an overall 50-acre site located on an aquifer — permeable rock that can contain and transmit groundwater. Forsley said the group plans to use the aquifer as a water source water and possibly build a greenhouse to help create a sustainable facility.
Future plans for the site include the addition of an events center, a four-story hotel, a winery and several restaurants.
Meanwhile, construction has begun on a separate Shipyard project in downtown Portland, Maine. As part of that $65 million redevelopment project, Shipyard is transforming its brewery and taproom into a beer-themed hotel. Forsley said he's hopeful that the project will be completed in about 19 months.
"It's moving full speed ahead," he said.
In the meantime, Shipyard is still operating its downtown Portland tasting room with a five-barrel brewery.
The bulk of the company's beer is now being produced across several locations in Maine, Vermont, Florida and New York. Shipyard is also transforming a warehouse in Portland, Maine, into a 30-barrel brewing facility with the aim of shifting some beer production to that location.
Forsley added that the company is in negotiations to open new brewpubs next year in Dover, New Hampshire, and Sarasota, Florida.
Last year, Shipyard produced about 93,000 barrels of beer, down from a peak of more than 166,000 barrels in 2013. According to Forsley, Shipyard's volume will be about "flat" in the U.S. this year, but the company's export business in the United Kingdom is growing, driven by sales of American Pale Ale and IPA.
"The nice thing is we've kind of leveled out in the U.S.," he said. "We're up like 30 or 40 percent in the U.K."