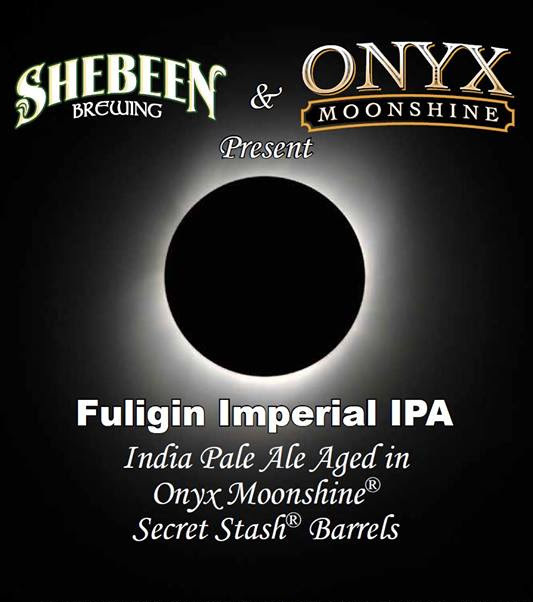 Wolcott, CT – Shebeen Brewing Company announces the release of its first Onyx Moonshine – Secret Stash Whiskey barrel-aged beer, Fuligin Imperial IPA, marking the start of an ongoing collaboration between the two Connecticut beverage producers.
The Shebeen-Onyx collaboration series will feature a lineup of high-gravity, small-batch, barrel-aged beers. Fuligin Imperial IPA is a supremely rich, imperialized version of their Black Hop IPA laced with subtle notes of whiskey and oak acquired while aging in the barrels. A big beer at 12%, Fuligin has the highest alcohol content of any beer in Shebeen's portfolio.
This Connecticut partnership began in 2015 when Shebeen was named the winner of the inaugural Onyx Moonshine Secret Stash Beer Bash Competition. The event raised money for scholarships at Goodwin College. Onyx Moonshine provided whiskey barrels to over twenty Connecticut breweries, and let the public vote on the best barrel-aged beer at a festival in August. As the winner of this statewide competition, Shebeen was given access to a collection of handcrafted, newly charred American oak barrels that originally aged Onyx Spirits Company's Secret Stash.
"It felt like a natural partnership. As a bit of a whiskey enthusiast, I have been a longtime fan of Onyx's handcrafted spirts." said Shebeen CEO Richard Visco,
"Shebeen is an Irish Gaelic word for speakeasy. So getting to come together with another local Connecticut establishment to create a beer that pays tribute to that speakeasy spirit was a project I was proud to take on."
Fuligin Imperial IPA will hit shelves in 22oz bottles for a limited release beginning on February 24th. Consumers will be able to first taste the brew at a release party ­­­­­­­­­on February 24th at The Olive Bar in Unionville, CT; see more details on Shebeen's Facebook page.
About Shebeen Brewing Company:
Though they are about to celebrate their three year anniversary in May, the idea for Shebeen Brewing started a quarter of a century ago, when its founder and Master Brewer Rich and his friend Scott, now the Head Brewer for Harpoon, ventured into home brewing when few even knew it existed on the East Coast. Rich took this homegrown experience, passion for beer, and his cultural roots from his birthplace of Northern Ireland, and finally opened the brewery in May of 2013. Shebeen or Sibin is Irish Gaelic for illegal brewhouse or better known in the States as a Speakeasy. Although, Shebeen Brewing Co. is a legal craft brewery, they keep that speakeasy spirit alive by creating interesting and challenging beers, alongside their flagship Irish Pale Ale. Sláinte!
About Onyx Moonshine:
Bootlegging runs in the blood of Onyx's co-founders, Adam and Pete. Adam's relatives ran a Prohibition-era speakeasy on the Connecticut River, and Pete's relatives have had a farm in Wethersfield, Connecticut, for more than 100 years that, shall we say … grew corn. Inspired by family lore and a rich local tradition, they set out to take American moonshine to a new level, using a secret recipe that they painstakingly refined. The result is a new legacy. With its launch in 2011, Onyx Moonshine became New England's first legal moonshine since Prohibition, and the first ultra-premium American moonshine ever. Made in a small distillery in East Hartford, Connecticut, from carefully selected corn, malted grains and pure Connecticut spring water, Onyx Moonshine infuses age-old Yankee charm with a flavor and mixability that "shines" in the modern world.