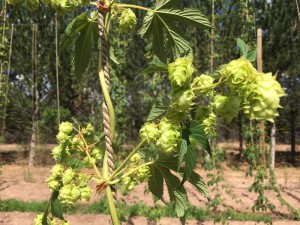 Santa Fe, New Mexico – New Mexico's own homegrown beer is here! Neomexicanus-1 or Neo-1, one of the two native New Mexican hop varieties from Santa Fe Brewing Company's hop farm was recently harvested and dry-hopped into a beer. Soon, New Mexico will be getting a taste of something truly local.
On Saturday, August 27th, Santa Fe Brewing Company (SFBC) owner Brian Lock, Neo-1 developer Todd Bates, and several of Lock's friends went out to SFBC's hop farm in Rinconada, NM to harvest the Neo-1. The harvest took about 4 hours of labor-intensive work to collect the fresh mature whole cones. 10 people spent the afternoon cutting down bines and hand-picking the wet hops. The hops were then driven down to Santa Fe's brewing facility, where they were partially dried and put directly into the serving tank of a filtered Pale Ale. There, they began to impart the local flavor stemming all the way from the native New Mexico soil to the water of the nearby Rio Grande. The result is a very juicy, yet refreshing beer, with hints of lemon, citrus, and apricot, perfect for sipping away the last light of another great New Mexico sunset.
In 2003, The Neo-1 and Amalia hops were isolated and developed by Rinconada local Todd Bates. Lock purchased the hop rhizomes in 2014, and has been growing them for the last two years on a small plot of land between Santa Fe and Taos. "This is the first year there were enough hops to create a sizeable batch worth sharing with the beer drinking public, and I couldn't be more thrilled that all of our hard work is now coming to fruition. The profile on the Neo-1 is unique, unlike any SFBC has brewed or dry-hopped with before," says Lock, who has named the beer "Estate Grown Neo-1 Wet-hop Pale Ale."
This homegrown specialty beer will be available (on draft only) Friday, September 9th, with release parties at all three Santa Fe Brewing Company taprooms. Come in for a pour of this delicious local beer made of native New Mexican hops, grown right here in the state, by New Mexico's oldest brewery.
About:
Santa Fe Brewing Company is New Mexico's oldest brewery, distributing beer throughout New Mexico, Colorado, Texas, Oklahoma, Arizona, Nevada, Kansas, Missouri, Louisiana, and Utah. All of the beers are brewed, canned, and bottled on site in Santa Fe, New Mexico. Year round favorites include Happy Camper IPA, Imperial Java Stout, Santa Fe Pale Ale, Santa Fe Nut Brown, State Pen Porter, Hefeweizen, Chicken Killer Barley Wine, Black IPA, and Santa Fe Gold. Seasonal styles include Freestyle Pilsner, Oktoberfest, and the all-new Adobe Igloo. For more info, visit www.santafebrewing.com