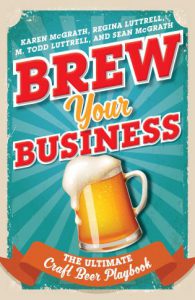 LANHAM, Md. — Craft beer culture and industry have recently grown exponentially with over 4000 craft brewers operating in the United States alone. Brew Your Business: The Ultimate Craft Beer Playbook incorporates cultural, legal, business, public relations, management, science, networking, and brewing experience into one easily accessible book for everyone wanting to know more about craft beer brewing, tasting, and selling. Thoroughly researched, the authors provide a tasty overview of the various types of craft beer, methods for brewing, and opportunities for taking your crafted beer to market.
In their Talking from the Tap! Interviews, industry experts offer their takes on what they do, how they arrived in their current positions, why they do it, and where they are going in the industry. Whether you are new to craft beer or have been in the industry for a while, you will find in these pages a go-to guide to many topics of importance to all brewers, drinkers, and enthusiasts. It's time to get serious about craft brewing and the culture of craft beer. So, choose your favorite suds and set out upon this journey. You won't be disappointed. Cheers!
About the Authors
Karen McGrath (a.k.a. Smith) has been researching, writing, and teaching for over 30 years, and has co-authored a book with Regina Luttrell entitled The Millennial Mindset: Unraveling Fact from Fiction (Rowman & Littlefield, 2016). She continues to hone her palette through visits and tastings at local and regional craft breweries.
Regina Luttrell spent the first half of her career managing high-level public relations and marketing activitiesfor Fortune 500 companies, governmental entities, and non-profit organizations. She is the (co)author of SocialMedia: How to Engage, Share, and Connect, The Millennial Mindset: Unraveling Fact from Fiction, and manyother books.
Todd Luttrell, craft beer enthusiast, is an accomplished scientist and business professional with nearly 20 yearsof discovery and leadership experience. His 15 years as an Organic Chemist promotes a philosophy ofexperimentation, which has led to many popular home brews as shared within the community.
Sean McGrath is a committed homebrewer with over 20 years of experience. He actively attends beer festivalsand conferences in the New England region to further his knowledge of current craft brewing techniques andflavors. He currently serves as an assistant brewer at the Helderberg Mountain Brewing Company.