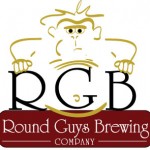 LANSDALE, Pa. — Round Guys Brewing Company (RGB), a brewpub and on-site craft brewery, located in Lansdale, Montgomery County, is announcing its grand opening on March 9. The owners, Scott Rudich and Rich DiLiberto, long-time friends, chemists, and beer lovers, take great pride in developing unique, hand-crafted beer.
"This has been a lifelong dream, and we are so excited to open this establishment built on passion, blood, sweat, tears—and most especially high-quality beers," said Rudich.
Their motto of: "No Monkey business, just well-rounded beers," is reflected in all of their brews. The professional brewers offer a range of selections including: a Saison, black IPA, porter, English style session ale, Belgian triple, stout, a German sour style beer, and other seasonal offerings. RGB offers many of their creations on tap in Philadelphia area locations and at their laid-back Lansdale brewpub, where pints, flights and growlers are available.
RGB has been open since April 2012 in its Lansdale location at the corner of Main and Wood Streets, but as of the official grand opening, will serve patrons seven days a week. The brewers are also offering a full menu and expanded beer selections. The Grand Opening celebration begins at noon on Saturday, March 9, and will include all-day beer and food specials, prizes and giveaways,. "The Fermentors," a quartet specializing in classic rock covers will perform at 8 pm that evening.
Round Guys are pleased to make their brewery's home in Lansdale, a thriving, engaged community. "As we explored the borough and met the local residents, we really felt like Round Guys Brewery would be a good fit," said DiLiberto. "The reception we have received from the borough and residents has been tremendous. We are really excited to be a part of the community and contribute to really putting Lansdale on the map."