Fort Worth, TX – Following a company-wide shift and growing industry trend from bottles to cans, Rahr & Sons Brewing Co. will release two seasonal beers, Iron Thistle and Iron Joe, in cans for the first time in 2017.
Iron Thistle, a strong Scotch-style ale, will be released in mid-January – earlier than in past years – to meet growing demand for canned craft beers. The beer has a bold taste dominated by a smooth, sweet maltiness and caramel flavors. The iridescent purple can will feature a crisp, clean shield design being used on many of Rahr & Sons' beers moving forward. Iron Thistle is a multi-award-winning beer, most notably nabbing a silver medal at the 2012 Great American Beer Festival, the premier beer competition in the U.S.
Iron Joe, a variation of Iron Thistle brewed with Noir cold brew coffee from Fort Worth-based AVOCA Coffee Roasters, will be released in early February. Iron Joe is aged in American oak barrels for three months, which results in a beer that is dark in color with a rich, robust flavor, a creamy tan head and coffee nose. Part of the limited-edition Den of Sin series, Iron Joe will be the first 4-pack of cans from Rahr & Sons. The pearl white cans will be accented with gold and silver design elements and feature metallic gold can toppers.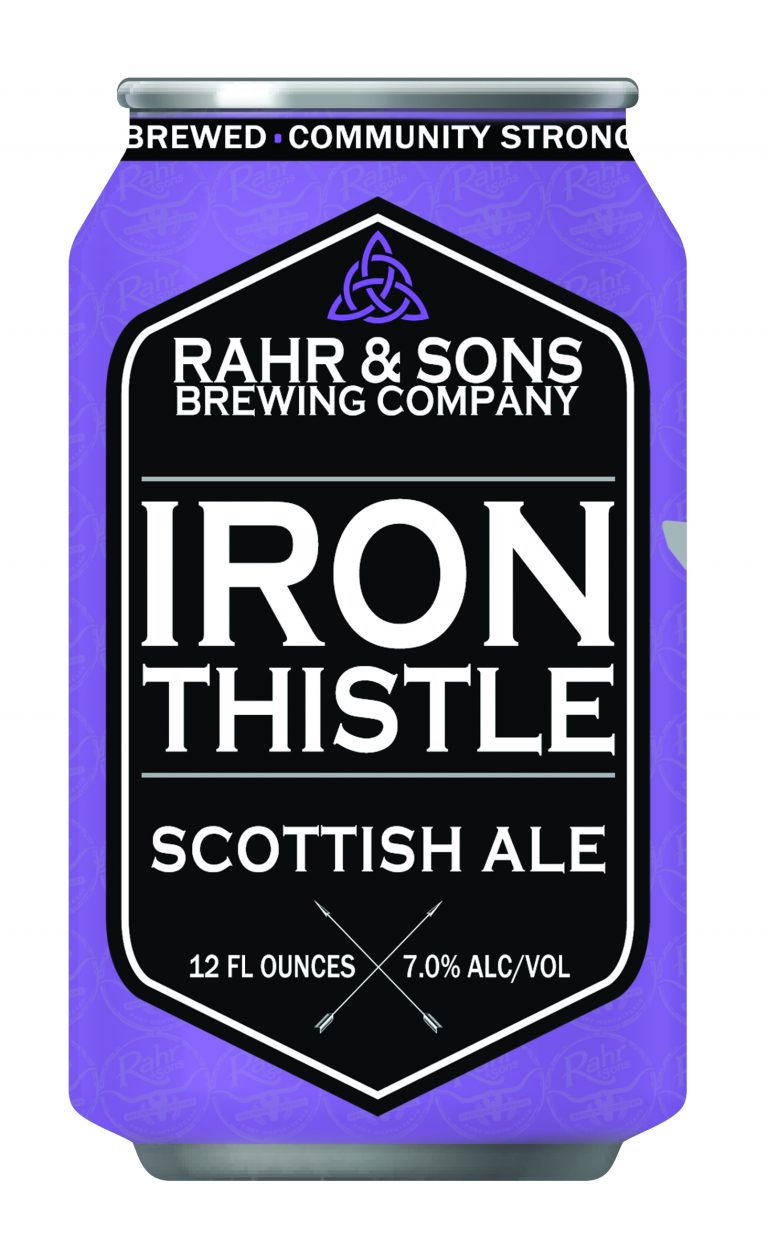 Canned craft beer has grown in popularity in recent years as can technology has become more accessible to specialty breweries. Despite the misconception that they give off a metallic aftertaste, cans are lined with a thin plastic to avoid impacting the beer. Cans also prevent the two things that are most harmful to beer – light and oxygen – from affecting taste, freshness and appearance. Other notable benefits of cans include portability, becoming colder faster and being stackable, space-saving and more environmentally-friendly.
Rahr & Sons' vice president of operations Craig Mycoskie previously worked with Marty Jones – the man credited with making canned craft beer 'cool' – at Colorado's Wynkoop Brewing Company and has seen the popularity of craft beer in cans grow over the course of his career.
"Canned craft beer has evolved so much in the last 10 years, becoming the future of the industry," said Mycoskie. "I am proud to be a part of a team that is committed to making the switch to cans and educating consumers along the way about why cans are superior to bottles."
Rahr & Sons will release additional beers in cans during 2017. For more information, please visit rahrbrewing.com and facebook.com/rahrbrewing.
ABOUT RAHR & SONS BREWING COMPANY
Fritz and Erin Rahr started the craft beer movement in North Texas, as they founded Rahr & Sons Brewing Co. in the fall of 2004. Since then, Rahr & Sons has exponentially grown its brewing capacity from 2,000 barrels a year to more than 20,000 barrels a year. 
The craft brewery has won more than 60 nationally and internationally-recognized awards, including: a Bronze Medal at the 2016 European Beer Star Awards; two Gold Medals and one Silver Medal at the 2016 U.S. Open Beer Championship; two Gold Medals at the 2015 Great American Beer Festival; a Gold Medal and four Silver Medals at the 2015 Los Angeles International Beer Competition; a Bronze Medal at the 2014 Great American Beer Festival; a Bronze Medal at the 2014 World Beer Cup; and several Gold, Silver and Bronze Medals at the 2014 Denver International Beer Competition.
Rahr & Sons has been featured in local and national media, including Wall Street Journal, New York Daily News, being named in the top 4 of the 20 best craft breweries in America by Time Out, and winning Best Brewery/Distillery from Fort Worth, Texas Magazine for three years in a row.
For more information, visit rahrbrewing.com and facebook.com/rahrbrewing.